The cannabis as a medicine survey
The Cannabis as a medicine survey (CAMS) has been running since 2016 when medical cannabis was legalised Australia-wide. The team at the Lambert Initiative for Cannabinoid Therapeutics creates and runs the survey every few years to get an updated picture of how Australians are consuming cannabis for medical purposes. The survey is now on its third iteration, CAMS20, and it can be taken on the Lambert survey site.
Results are presented in multiple forums to politicians and regulators, and provide feedback on how our Australian systems are working and where they're failing. Taking part in the survey is a critical aspect of improving the medical cannabis space and cannabis access in Australia.
In this article, Professor Iain McGregor the Academic Director of the Lambert Initiative for Cannabinoid Therapeutics will give you an overview of the CAMS surveys, explain how you can take part in CAMS20 and as a result make a difference in the cannabis space in Australia. Here's what Iain covers:
A brief history of the CAMS surveys
The Lambert Initiative was created in 2015 with a focus on far-reaching, independent research.The team quickly realised that one of the important aspects of the group is their ability to act as an agent for change in policy and patient access.
Through the CAMS surveys, the Lambert team has been able to 'take the temperature' of the community in terms of use of medicinal cannabis consumption, and guage the collective sentiment about current access pathways. The first CAMS survey ran in 2016 when legal cannabis access was first passed. CAMS16 revealed just how many people were using cannabis for medical purposes and flagged the importance of speaking to patients about their needs.
CAMS18 results were released in 2020 and highlighted the fact that most patients use illegal cannabis rather than the legal access pathways to obtain their medicine. In doing so, it illustrated that cost, stigma and the lack of interest from doctors is negatively impacting patients and impeding progress and growth of the industry.
Now, CAMS20 is available for all medical cannabis patients (legal or illicit).
The importance of CAMS20 for patients and industry
Iain explained that the importance of the CAMS surveys is that they give us the formalised data to show the government and regulators what they might not see otherwise.
There were two or maybe three years of just intense frustration where people realised that there was a very cumbersome scheme being rolled out. Doctors weren't educated around how to prescribe medicinal cannabis. The products were extremely expensive and the default was really for people just to carry on self-medicating with illicit cannabis.
He said that both CAMS16 and 18 were critical to compiling the data on legal vs illicit consumption and providing insights to regulators. For example, the fact that only 2% of patients are using legal products was taken to the Senate inquiry in early 2020 and was used to show regulators that the current framework isn't working.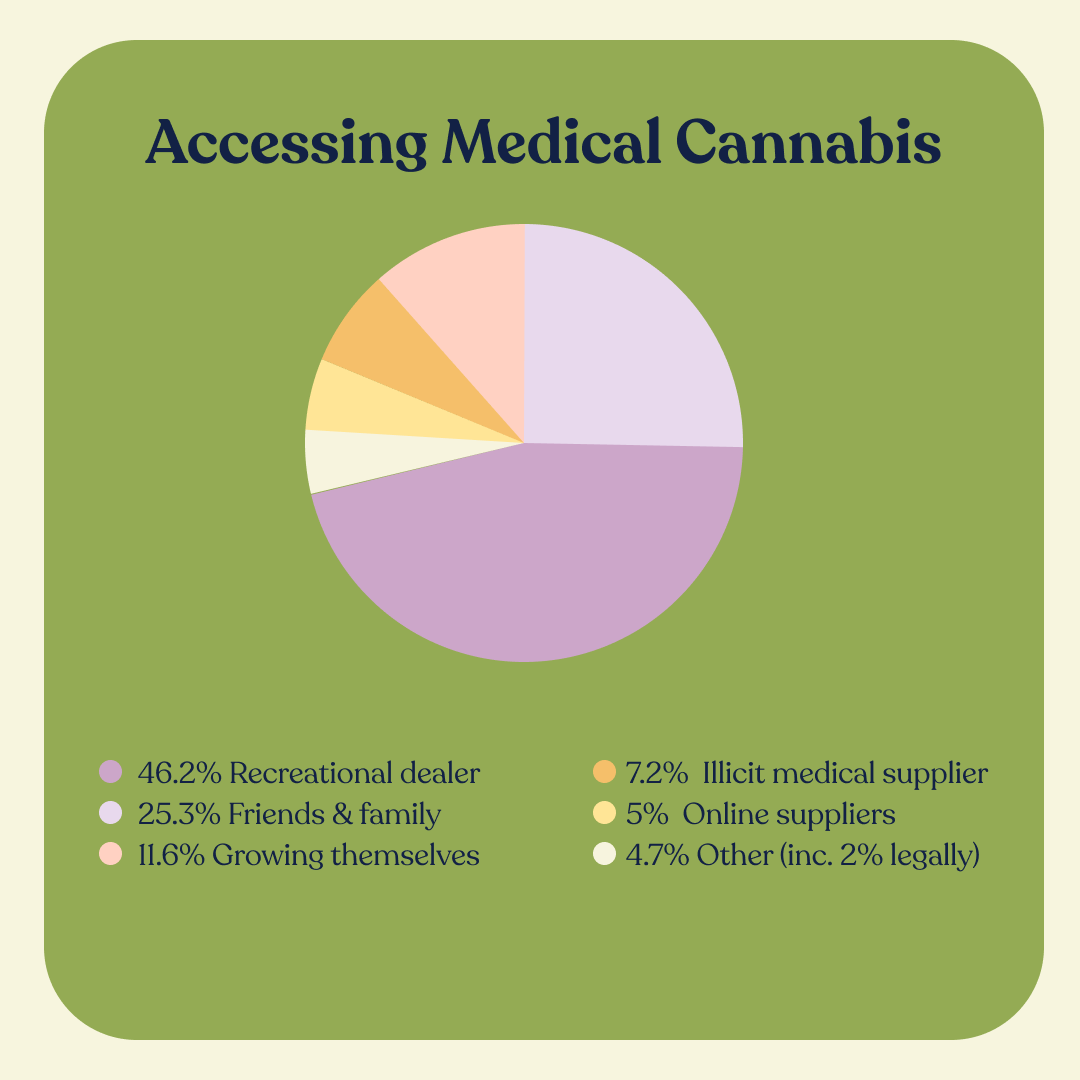 These surveys can also help guide future research. The finding that many people are using medical cannabis for depression is very useful. There are no clinical trials for cannabis and depression. Researchers were able to flag that we need more scientific data in that field in order to improve access in order to validate the current patterns of consumption in the community.
Insights from past surveys
Here are some of the most interesting findings that Professor McGregor listed:
Unsurprisingly, the number one condition being treated was pain. However, not far behind were mental health conditions like anxiety, depression and insomnia which wasn't expected. Another interesting area was patterns of consumption.
In the 2016 survey, results showed that many people were using older methods of consumption like bongs, joints and even smoking cannabis with tobacco. By 2018 there had been a big shift toward oral products and CBD based products. People have become more sophisticated about their medical cannabis products.
Patients may have an oil to get them started in the morning, like a starter oil if you like, with CBD in it. Then at night they may wind down with a THC vape to help them sleep. It's been interesting to track the changes and sophistication.
In 2018, another big topic was cannabis and driving. The survey found that about 30% of people were driving within three hours of cannabis use. This is a large risk both for testing positive at the roadside and also for the safety of others. Recent research has shown that CBD has no impairing impacts on driving and that vaporised cannabis effects wear off after about four hours.
Goals for the CAMS20 survey
The goals for the 2020 survey are straightforward; the Lambert team wants to get more data from both legal and illegal medical cannabis consumers. The more survey participants providing a true representation of medical cannabis consumption (both legal and illegal), the stronger the data to support the changes we need regarding cannabis access.
The team is very interested in the comparisons between legal and illicit consumers, what the experiences are like, what products they're using and which conditions people are consuming cannabis for.
This survey also asks your opinion on whether we have a successful legal access framework in Australia and gives you the opportunity to share what you'd like to see from an access, policy and product perspective.
This survey gives your voice and personal experience a platform to help inform the future of cannabis policy.
Take part in CAMS20
In order to take the survey the requirements are simple. You must
Be 18+ years old
Have consumed cannabis for medical purposes in the last 12 months
Cannabis can be legal or illicit
All of the data is de-identified so you don't have to worry about the legality of your consumption.
The survey can take up to 30 minutes, however, there is a save button and you can come back to it over a few sessions.
This is a valuable research and advocacy tool for the improvement of cannabis access in Australia.