For more information about the observational study, visit The Medcare Study website. If you'd like to book a Free 15 Min Eligibility assessment for the study, you can book here. Note: If you do book an assessment, please mention honahlee. We do not have a financial relationship with Medlab, it's purely for record keeping purposes.
---
According to the TGA data, chronic pain is the number one prescribed condition for medicinal cannabis in Australia. However, while there is evidence that cannabis can benefit pain, many doctors still don't believe in the plant's analgesic properties. The solution to doctor scepticism is more clinical trials.
In this article, you'll learn about The Medcare Study, an observational study being conducted by Medlab clinical, a medicinal cannabis supplier. We were lucky to speak with the very caring and knowledgeable Courtney Fletcher, the clinical trial coordinator for Medlab clinical, about this study. In case you'd like to jump ahead, here's an index:
Background on this cannabis and chronic pain study
The product used in this study is a cannabis-based medicine prescribed by a healthcare practitioner to relieve pain. The product is an oral-buccal nanoparticle spray, meaning that a spray delivers the product into the inside of the patient's cheek for absorption.
The delivery platform is called NanoCelle®, which enables faster and more effective absorption of the active ingredient into the bloodstream. In this case, the ingredients are the cannabinoids CBD and THC. 
The Medcare Study is a national observational study conducted in Australia. It's for patients who are about to start therapy with the NanoCelle® cannabis-based formulation for the management of cancer related or non-cancer-related pain. During the 12 month study, Medlab will be investigating clinical and prescriptive changes of the medicine called NanaBis™.
The study commenced in May 2019, and the expected completion date is to be in May 2024. The goal is to enrol 2000 adult patients who are at least 18 years of age with a diagnosis of cancer related or non-cancer-related pain.
Why chronic pain?
Chronic pain is the most common reason for patients obtaining a script for medicinal cannabis. This is often because there are limited other methods to control chronic pain (which significantly contributes to the disease burden in about half of cancer patients).
Poor management of chronic pain can adversely affect patients' quality of life. And, patients who do not respond well to opiates or have severe side effects from the use of traditional analgesics (pain killers) require other therapeutic options. 
A study that helps learn more about treatments for chronic pain, a condition affecting 1 in 5 Australians, can significantly positively impact our community.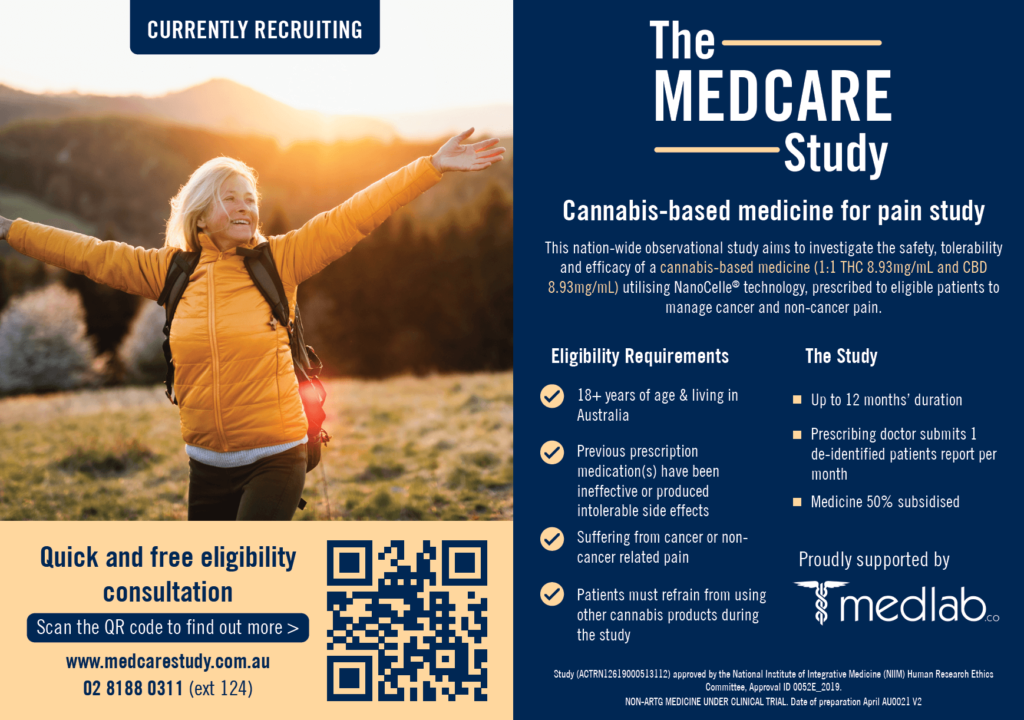 Current insights from the study
There is a preliminary first report. Here're some of the important data:
Over 900 patients enrolled
Positive improvements in sleep
Positive improvements in mood
Positive improvements in activity scores
Significant reduction in pain scores
Participant eligibility requirements
18+ years of age & living in Australia;
Suffering from cancer or non-cancer related pain;
Previous prescription medication(s) have been ineffective or produced intolerable side effects;
Must refrain from using other cannabis products during the study;
Willing to participate for up to 12 months (usually around 4);
Complete a monthly feedback/observation session;
Taking part in the study: what to expect
If you'd like to see if you're eligible to participate in this study, you can visit The Medcare Study website to complete a quick 60-second screening questionnaire. If you qualify, you can talk to the Medcare Study team to help find and book an appointment with a participating study doctor or help invite your usual doctor.
During the initial visit, the doctor will screen you to confirm your suitability for participation in the study. The first visit is approximately 30 minutes long. 
If you're eligible and you decide to take part in the trial, you'll need to complete two questionnaires about your pain and quality of life. You'll be guided by a participating doctor on how to complete the surveys.
Once prescribed and you're in the study, you'll be required to visit the clinic once a month for a maximum of 12 months (likely to be about 4 months). Each visit, you'll provide information about the administration and efficacy of the product for managing your pain.
Cost of participation in the trial
Participants in The Medcare Study will receive their Medlab cannabis product at a subsidised rate (50% off) for the duration of their participation in the study. The cost of your doctor visits, however, will be at your own expense.
Patients who complete the 12-month study and find the cannabis-based medicine safe, tolerable, and effective are eligible for continued subsidised pricing (50% discount).
If you withdraw from the study but would like to continue to use the Medlab product to manage your symptoms, it will be purchasable at a non-subsidised price.
If you'd like to book a Free 15 Min Eligibility assessment, you can book here. Note: If you do book an assessment, please mention honahlee. We do not have a financial relationship with Medlab, it's purely for record keeping purposes.