Important: The information in this article is not legal advice and is not being provided by lawyers. If you have questions about the law, please consult a legal practitioner.
In November 2021, the Therapeutics Goods Administration (TGA) changed the medicinal cannabis access framework to help streamline the process. The changes mean that as of late November '21, prescribers of medicinal cannabis would apply for approval to prescribe patients based on product categories, not individual products. Unfortunately, while the TGA made these changes to help ease the process, they left various aspects of the process and interpretation of these changes open-ended, which has led to confusion from both health professionals and patients alike.
The TGA changes do not authorise or encourage doctors to issue prescriptions that specify only a range of strengths of the drug/s prescribed. Especially not the large ranges (varying by up to 67%) in the authorisation categories. This would be poor medical practice.

NSW Health
In this article, we'll disclose some of the information the TGA and certain state bodies have provided prescribers and help to answer the most frequently asked questions around the "Generic Medicinal Cannabis Script", "Generic Script" or the "Category Script" as patients have started referring to them. 
Based on what the TGA and State bodies have said, it seems clear: writing a script that only has a category number and broad range of cannabinoid content (i.e. Category 5, Cannabis flower, THC 0%-30% / CBD 0%-30%) is not acceptable medical practice, and where they are being written, they may not last long.
Finally, the only patient-facing change that the category scripts creates is that when a product goes out of stock, the pharmacist may contact the doctor and determine with the prescriber which alternative product is suitable for the patient without another patient consultation.
Here's what the article covers. If you'd prefer to just know what the category changes mean without the context, we suggest you jump to the Patient FAQs section.
How do the current application and prescribing systems work?
To answer this question fully, we'll give you an overview of how the application and approval system worked before the changes and how the current system works. We'll cover the Special Access Scheme (SAS), and Authorised Prescriber (AP) Schemes so get the complete picture.
It's important to note that these changes to the TGA guidelines are about the application to authorise prescribing a product for a patient and how the approval works. The TGA is not specifically guiding the scriptwriting and dispensing process. So, while some of the articles you may read make it seem like the TGA is making rules around State prescriber and dispensing guidelines, the TGA has always stated that local rules apply.
Please also note that the application processes are more complicated than we've outlined in the section below. Therefore, we've chosen to leave out the details, so you understand the concepts rather than the detailed framework.
Old application process
Old Special Access Scheme (SAS) Guidelines
Under the old rules, health professionals could apply via the SAS to get approval to prescribe medicinal cannabis. The old application was for the authority to prescribe:
A single patient with a
Specific product for a
Specific condition
This meant that, upon approval, the health professional could prescribe the product approved to that patient using a single script. If the prescriber wanted to change that medication or add a new medication, the prescriber would need to apply for each product or new product. Repeats did not need a new script, and TGA approvals were generally valid for 24 months.
Old Authorised Prescriber (AP) Guidelines
For a prescriber to become an AP, they needed to apply for Human Research Ethics Committee (HREC) or endorsement from a specialist college and then apply to the TGA for the AP approval. AP applications to the TGA were submitted for authorisation to prescribe:
A specific product for a
Specific condition to
Unlimited patients with that condition
This meant that, upon approval, the health professional could prescribe a specific product for the conditions they were approved for to any patient that had those conditions. The AP did not need to apply for every script they wrote but needed to provide reporting to the TGA once every six months. If the AP wanted to prescribe outside of their AP authorisation, they could always use the SAS pathway.
Current application process
New Special Access Scheme (SAS) Guidelines
Under the new SAS pathway guidelines prescribers now apply to the TGA for the authorisation to prescribe:
A category of products for a
Specific condition to
A single patient
This means that if approved, a prescriber may write a script for any product within the approved category. The new rules also mean that if the prescriber wants to add or change medications within that category, they do not have to re-apply. This is particularly important when products go out of stock.
New Authorised Prescriber (AP) Guidelines
Under the new AP framework, the TGA created two main pathways. One requires an HREC or specialist college endorsement and approval by the TGA, and the other, called the Established History of Use pathway (EHOU), only requires TGA approval. Similar to the SAS pathway changes, the approvals are now for:
A category of products for a
Specified condition(s) to
Unlimited patients with that condition
Again, we've left several details on these changes out of the description to make it easier to understand; however, the key takeaway is that prescribers are applying for approval to prescribe a category of products rather than a single product.
NOTE: The EHOU pathway only applies to Category 1, 2 & 3 oils or capsules and is limited to
Chronic Pain (Cat 1, 2 & 3) and
Anxiety (Cat 1 & 2) and
only applies to Adult patients.
We've focussed on the category change because people have interpreted the category approval as "A prescriber can now write a blank category script which entitles the patient and pharmacist to choose the product."
Breaking down the TGA & State guidance on the new framework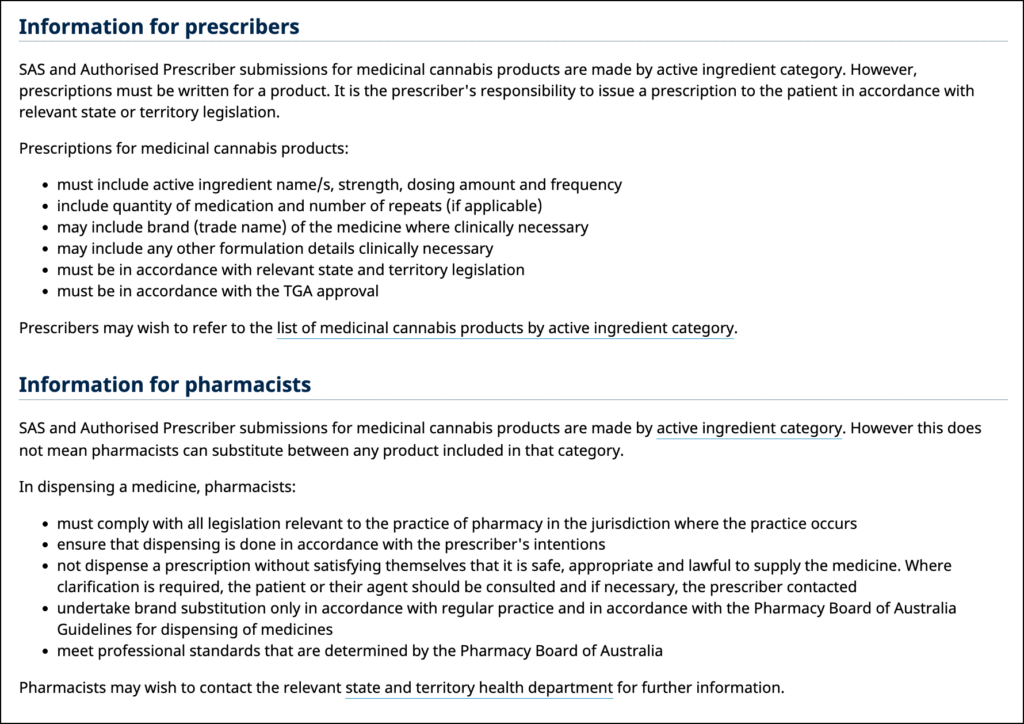 Recently the TGA updated their website with the information in the image above. While the TGA doesn't explicitly state that Generic Scripts may not be written, they are clear about a few things:
Prescriptions must be written for a product.
Prescriptions must have the strength written.
Pharmacists may not just substitute between any products in a category.
Pharmacists must undertake brand substitution in accordance with PBA Guidelines.
Based on the information above it is safe to say that the following applies:
A script that only lists a range of CBD:THC or a category is not a "prescription for a product".
A script that does not list a brand name would need to list the exact strength and CBD/THC content.
A pharmacist cannot just choose or substitute products – they must have a reason (more below).
These factors alone make it almost impossible to write a generic script. However, the information provided by NSW Health and the VIC Health below makes it seem even more evident. Here's an excerpt from the NSW Health letter: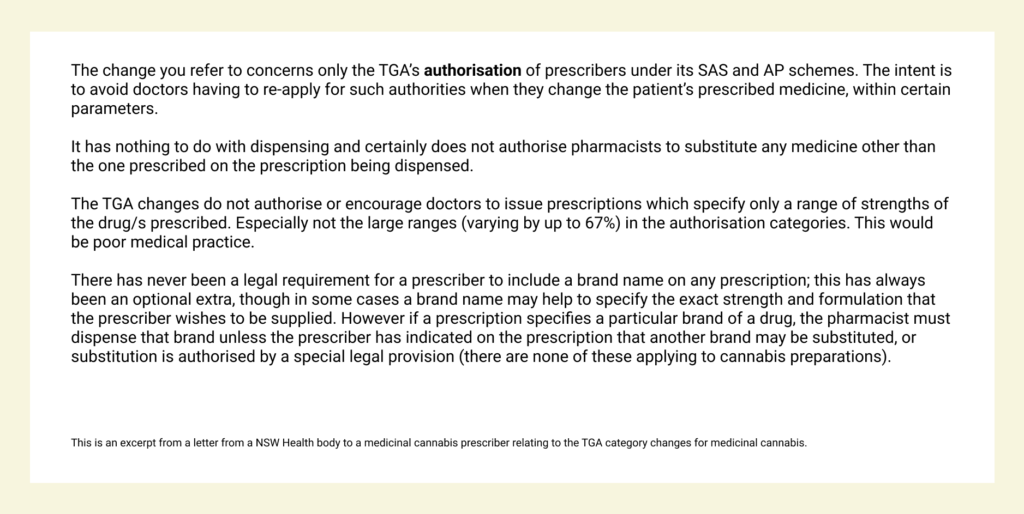 The key things to note are:
TGA changes are meant for the authorisation to prescribe, not the actual script.
The changes do not authorise doctors to issue prescriptions that specify only a range of strengths of the drug to be prescribed.
Providing a script with large ranges rather than product-specific information would be considered poor medical practice.
And finally, information from the VIC Health website: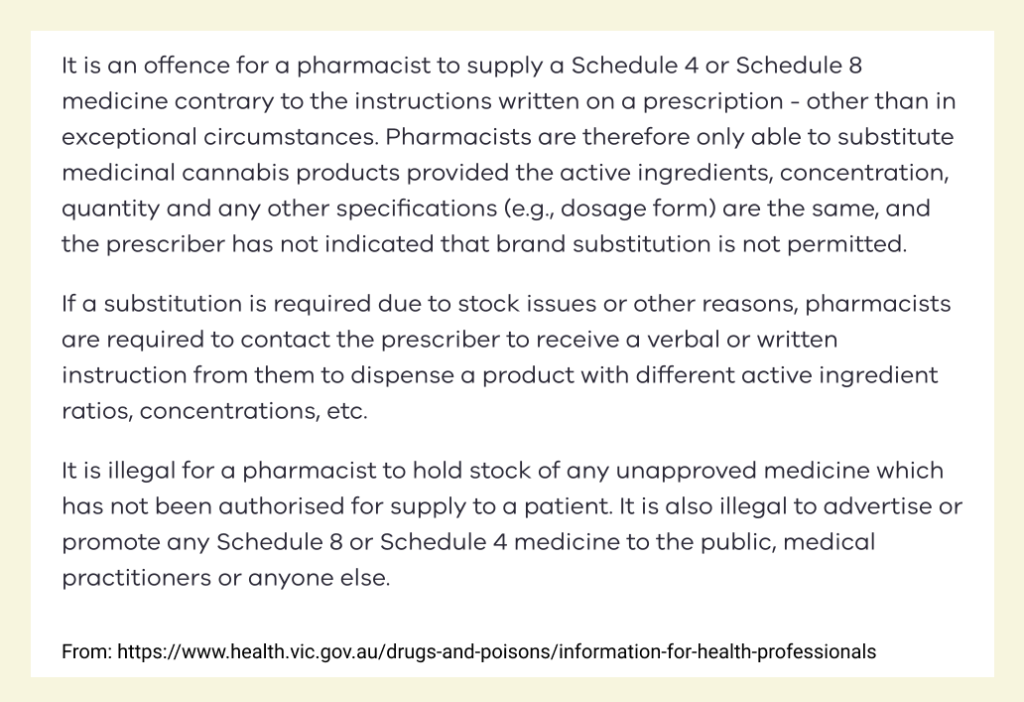 The critical information above is:
Pharmacists can only substitute medicinal cannabis products provided the active ingredients, concentration, quantity, and any other specifications (e.g., dosage form) are the same.
If substitution is required, the pharmacist must contact the prescriber to get verbal or written instruction to dispense a different product.
While the information above is from two different states, they are almost identical. Therefore, it's safe to reason that similar rules apply from state to state. Although none of these documents specifically mention generic scripts or category scripts, it seems clear that both the TGA and state bodies do not want generic scripts written or pharmacists and patients choosing the cannabis products the patient receives.
The TGA has also made it clear that these changes were made to reduce workload for prescribers and is a response to medication shortages that frequently occur, particularly with medicinal cannabis. To understand product substitution further, let's look at the substitution rules for conventional medicines.
Conventional biosimilar medication substitution framework
The substitution of brands in conventional medications has been going on for a long time. Most patients have gone to their pharmacy to drop off or pick up a script and been asked if they'd like the cheaper or generic brand. If this has been happening with other medications, why is it so complicated with cannabis?
The Department of Health website says the following about biosimilar medicines:
Biosimilar medicines are highly similar versions of an already registered biological medicine (the reference biological medicine).
The minor differences between reference and biosimilar medicines do not affect the safety, effectiveness or quality of the biosimilar medicine.
The medicines have been assessed to have no clinically meaningful differences and are therapeutically equivalent.
A medicine cannot be identified as a biosimilar medicine until it is evaluated by the Therapeutic Goods Administration (TGA) and shown to be as safe and effective as the reference biological medicine.
Medicinal cannabis is an unapproved medication, which is why prescribers must use the SAS and other special pathways. As an unapproved medication, cannabis has not been evaluated to have biosimilar equivalents. The TGA also keeps a list of approved biosimilar medications, and there are no cannabis-related products on the list.
With this information in mind, it becomes even more clear that the TGA changes do not make it acceptable to write generic category scripts or scripts that would allow for the patient or pharmacist to decide which medications are dispensed.
Conclusion (and FAQs)
To explain the current interpretation of the TGA changes to the medicinal cannabis framework, we have given an overview and analysis of various rules and government policies. It seems clear that the only impact that the new category approval system is meant to have on the patient is the ability to speed up a new script when a product goes out of stock. That said, in this conclusion, we'll aim to tackle some FAQs head-on so that things are more precise.
Please remember that this article is not legal advice. Furthermore, we are not saying that this information is the law. Rather, it's the interpretation of publicly available information for patients and medical professionals. We're also confident that this is the interpretation with which most medicinal cannabis practitioners and industry representatives agree.
What does the new category approval system mean for me as a patient?
In theory, the new category system is meant to impact patients positively but doesn't involve the patient at all.
The new category approval system means that a prescriber no longer needs to apply to the TGA to write a script for a new product in the same category. It also means that if your prescribed product goes out of stock, you shouldn't be required to make a new appointment – your pharmacist should be able to contact your prescriber to select a new product.
Is it possible to get a cannabis category script (generic script) without a specific brand or product listed?
Yes. There are some clinics and prescribers who will write a category only script. However, based on the publicly available information from the TGA and VIC/NSW Health, the provision of a script that only has a category or broad range of strength of medication listed would be bad medical practice.
If you do receive a script like this, be aware that you may lose access to this type of script in the near future, and the medical professionals providing this type of script may run into issues with medical bodies.
Can I choose my own product with a category script (generic script)?
Even if prescribed a category script, you should not be allowed to select your products. All of the medical guidance documents related to prescription and dispensing of medicines state that the prescribing practitioner chooses the product, and a pharmacist may substitute in some instances.
If you are able to select your products from your prescriber, clinic or pharmacist, be aware that this would likely be seen by State and Federal bodies as poor medical practice.
What if my product goes out of stock, can the pharmacist substitute products?
These guidelines were created so that prescribers do not need to re-apply for a new script to provide the new product. That, however, does not mean that a pharmacist can swap products without speaking with the prescriber. From speaking with multiple pharmacists and looking at the VIC Health information above, it seems that the correct process would be:
Pharmacist confirms stock outage (countrywide, not just from their a single distributor).
Pharmacist contacts prescribing practitioner, discusses and determines a suitable substitution.
Pharmacist creates a record of the interaction with the prescriber and can dispense the new medication.
It's vital to note that out of stock in point 1 means Australia wide. Pharmacists often rely on distributors for stock levels when a single distributor's stock level is not reflective of the stock Australia-wide. It's best to ask your pharmacist to contact the product sponsor to confirm stock availability, not just the distributor.
---
We hope that this article has answered medical professionals' and patients' questions. If you have further questions about the category scripts, please feel free to contact us, and we'll update this article with more FAQs as they arise.If you're a healthcare professional and want more information about the products available in Australia, including Australia-wide stock, we suggest you check out Catalyst, Australia's first independent industry-supported Cannabis Medicines Database (think MIMS, but for cannabis).