Cannabis & IBS Clinical Trial
Medical cannabis is becoming an increasingly popular treatment for a myriad of conditions. Conditions relating to your stomach and digestive health, like IBS and IBD (Inflammatory Bowel Disease) are increasingly being treated with medical cannabis. About 15% of the Australian population suffers from IBS. And an increasing number of Australians are being diagnosed with Crohn's disease or ulcerative colitis.
To help understand how cannabis can help individuals with IBS, Emyria is sponsoring a medical cannabis and IBS clinical trial. In this article, you'll learn about the clinical trial, requirements for taking part in that trial and how you can get involved. Here's what the article covers:
Who exactly is running the IBS trial and Medi medical cannabis study?
Emyria (in partnership with Emerald clinics) are running the clinical trial. Emyria is a data technology company, collecting data to try and learn about the efficacy of certain medications. In this trial the Emyria team are hoping to determine which cannabinoids may help with IBS and whether medicinal cannabis helps to reduce the symptoms of irritable bowel syndrome.
What is the aim of the study?
Alistair Vickery, the medical director of Emyria said the following:
"There've been numerous reports from people taking medicinal cannabis and recreational cannabis. These reports have shown that symptoms of irritable bowel syndrome including abdominal pain, bloating, constipation, and diarrhea are relieved when people are taking cannabis.
There have not been any high-quality studies looking at specific doses or specific formulations of either CBD (cannabidiol) or THC (tetrahydrocannabinol) or where the combinations of those work best.
So, what we'd like to learn is what works for whom and when."
Why is this trial important for Australians and patients more broadly?
This trial is important for people all over the world. Alistair spoke with us about the population that has IBS and treatments:
"IBS is very common. About 15% of Australians suffer from symptoms of IBS (symptoms can include bloating, nausea, diarrhea, constipation) . And, there aren't very many effective treatments available.
The most effective treatment that has good quality research is the FODMAP diet. FODMAP is a diet low in some of the saccharides that cause inflammation of the gut. But, it's a very strict diet and very difficult to adhere to.
Many people struggle to adhere to it easily because the saccharides are hidden in lots of foods so the diet can become very restricting and almost impossible.
We've had lots of anecdotes about people taking cannabis and getting a really good response. What we're trying to find out is whether it's clinically proven to work or not. And, for medical cannabis to be more broadly accepted as a treatment by doctors, we needed a high quality trial with good quality medicinal cannabis where we know what doses of CBD or THC is being taken and their effects.
Cannabis isn't a cure. Most of the medications doctors prescribe patients aren't a cure. We want to find out how we can treat symptoms and make people feel better so they can get on with their lives."
How will the clinical trial work?
The trial will have in-clinic and online components. In fact, most patient data will be collected online.
Patients will be sent short questionnaires that they'll fill in once a week and a longer questionnaire once a month. Patients will also be monitored in-clinic. There are Emerald Clinic locations around Australia where patients will go for their initial evaluation and prescription.
The clinical trial will be roughly 6 months long, so patients will need to be committed to working with Emyria and their doctor for at least that period of time.
Requirements for individuals in the trial.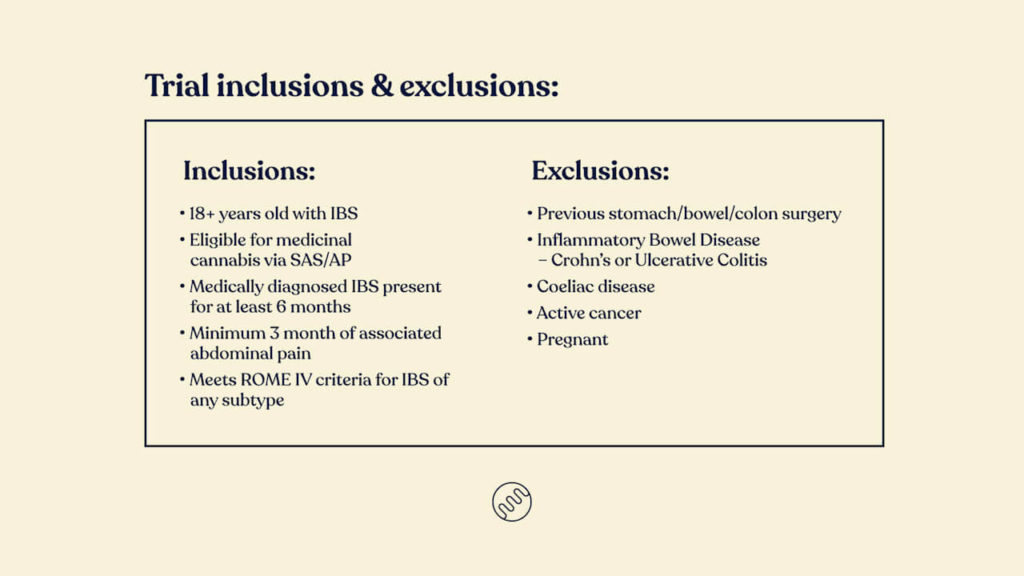 There are some important requirements that patients must meet before being eligible for this clinical trial:
Those involved in the trial must be 18 years old with at least 6 months of IBS diagnosis and 3 months of related abdominal pain. The individual must also have a medical diagnosis of IBS from a doctor. The doctor (GP or specialist) must provide a referral. The referring doctor must also provide a history of their IBS and any exclusions.
Patients must also be cannabis naive when starting the trial, meaning that if you consume cannabis either legally or illegally, you must have 1 month 'cannabis free' before starting the trial.
There are some exclusion criteria as well, meaning that if you have certain conditions, you are not eligible for the trial. These exclusions include:

Previous stomach/bowel/colon surgery
Inflammatory Bowel Disease – Crohn's or Ulcerative Colitis,
Coeliac disease
Active cancer
Pregnant
How to get involved:
Once you meet the requirements listed above the process is simple:
Have your doctor refer you to Emerald Clinics (here's the referral form)
Book an appointment for your initial screening to join the trial.
Cost of participation in the trial
Unfortunately this clinical trial is being run privately which means that patients will need to pay for the cost of the trial.
The trial will run for about 6 months and the fee includes:
Consultations with doctors
Medical cannabis products
The total cost for the trial will be approximately $1,000.
Alistair said, "The cost to participants will depend on the cannabis dose that you require. Everyone requires different doses of cannabis for it to be effective so we can't give an exact cost up front. But, as an example, if you only need a small amount it could be as little as $600. If you require more cannabinoids it could be as much as $1,200."
Remember, medical cannabis still isn't funded by the PBS, however, there are many private insurance providers who do cover medical cannabis.
Cannabis and driving reminder
Alistair also felt it was important to remind people about the cannabis and driving laws so they have all the information before starting the trial.
It's illegal to drive with any cannabis (THC) in your system. And, the problem with this law is that you can't be sure if you have THC in your mouth after consumption unless you get tested. So, if you drive frequently this is something to speak with your doctor about.
If you'd like to get involved in changing the legal medical cannabis and driving laws, please visit the Drive Change campaign.