Employee rights for career drivers
If you're looking for more information about a medical cannabis patient's rights as an employee, you'll want to read our Employee Rights For Medical Cannabis Patients article.
In this article, Stipe Vuleta the managing director of Chamberlains Law Firm answers questions about CBD, THC and employees who drive to make a living. This article is for individuals who have a legal medical cannabis prescription and drive for a living.
In this article we cover the following questions:
05:24 | Advice for engaging with your employer about mc and driving (video only)
Before you jump ahead, remember that it's illegal to drive with any THC in your system. "In your system" is defined as THC being present in a mouth swab test at the roadside, not impairment. Read our cannabis and driving article to learn about the laws, and the article, how long does cannabis stay in your system for more information about drug testing.
Remember, THC in your mouth has no correlation to impairment. The only way to know for certain if you have THC in your mouth is to take a test. This is something you may need to discuss with your employer if you decide to speak with them about your cannabis script.
What are the rights of medical cannabis patients who drive for a living?
Driving and cannabis use is an interesting area because when considering the rights of employees who are cannabis patients and drive for a living, we have to first consider the rules of the road.
It will be up to your employer how they manage your employee policies and rights in relation to the road laws.
"So the first thing to consider is, 'Do I have THC in my mouth and am I impaired?' If the answer to either of those questions is yes, then the answer is that you shouldn't be driving regardless of whether you are or are not at work."
While we believe the mouth swab approach isn't fair and doesn't make sense because it doesn't correlate to impairment, fairness is not in question.
If the answer is that you're not going to drive impaired and you don't believe you have cannabis in your mouth (or are unsure), then the best thing you can do is to speak with your employer. Your goal should be twofold:
To make sure that you are not breaching any employment policies.
That you're engaging with them about the content of policies.
It's imperative that you understand not only the policies but also to make sure that they're consistent with respect to the risks of the activities you're doing and the type of driving you're doing.
You also want to make sure the policies make sense in the context of your medication consumption and policies around impairment and the consumption of other impairing drugs that colleagues might be using. The policies need to be coherent and fit the job you actually do.
What should patients who take CBD only medication do?
If you're taking a CBD Isolate, then you shouldn't have anything to worry about unless your company is testing for CBD, which is highly unlikely. If you decide you want to talk to your employer about it here's what you can do.
The answer is twofold in that, firstly, it goes back to what your employee documents say and secondly the fact that you're taking a medication that does not impair.
If you are working under a policy that already deals with medications like benzodiazepines or opioids, particularly where there might already be existing regulations about the way you and your medical practitioners deal with your medication in relation to other government bodies (ie roads and maritime services in NSW), then you should certainly be engaging with your employer.
You can speak with them about the fact that CBD has been found to be non-impairing and reported by both the WHO and in this clinical study by Australian researchers. You want to make sure that your employer is open to helping you work within the policy in a way that's inclusive.
While a breach of a policy may be overturned by the fair work commission, you don't want to get to that point. With CBD only, it should be fairly straight forward to talk about the risks and lack of risks that are associated with cannabis use and how CBD factors into the cannabis equation. If they have a policy which is considerate of cannabis, even if implied, make it expressed, ideally in writing.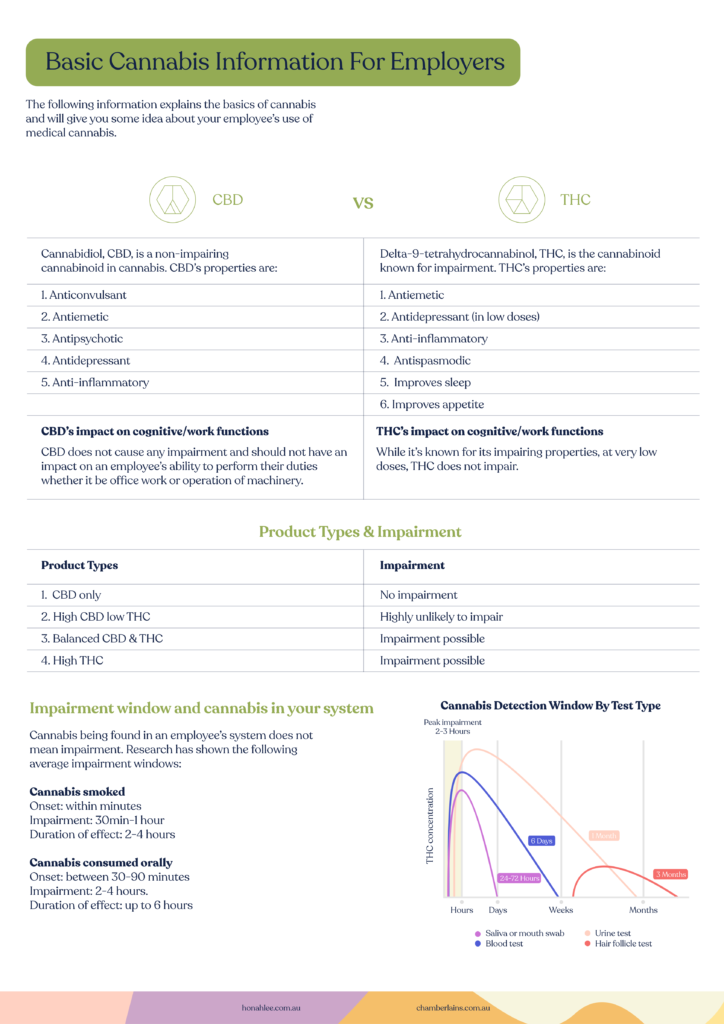 What should patients who have THC in their medication do?
"With THC, things become more interesting because there's a real dissonance between the criminal laws and testing regimes, insurer standards, policy and appetite of your employer and the nature of the driving that you're doing."
If you're taking medication with THC and drive, you most definitely want to speak with your employer. It's going to be better to talk about your medication, when you consume it, how it impacts your ability to drive or operate heavy machinery and the things you have in place to make sure you're safe at work.
If your employer doesn't know about your medication and you were to be tested or have an accident, the presence of THC could put all of the liability on you rather than your employer being able to cover you.
"Ultimately if I was going to pick an employer ruling factor, impairment would be my guess rather than the mere presence of prescription of THC or a THC based flower product. But, without knowing the exact circumstances it's very hard to say what an employee should do in their unique circumstances."
This is a topic that is much more complex than CBD products given the nature of the public testing regime and the absolute liability associated with cannabis as an illicit substance.
"You would imagine a more progressive employer might naturally be engaging in and be responsive to your medication use, but you might need to engage in more detailed communication and teaching with respect to other employees who may not fully understand the risk or lack thereof."
If you run into trouble with your employer, then it's going to be best to seek legal assistance to make sure you're not being discriminated against or treated unfairly by your employer, or that the policies in place don't actually make sense for your employment.

Conclusion
While the laws are still discriminatory toward legal medical cannabis patients this is a very difficult area to navigate. How can a company say you can't drive because you might have cannabis in your mouth? But, how can your company let you drive if the law states that it's illegal to have cannabis in your mouth?
Employees who take legal medical cannabis should not be forced to stop driving as long as they are not impaired. However, it will be up to you and your employer to decide what the best course of action to take is.
The solution is either that the laws change, or your company is willing to test you prior to starting each shift. We won't know how companies will treat employees until more people raise this issue with their employers. And, there may not be enough pressure on the government to change these laws Australia-wide until more employees come forward and speak with their employers or more publicly about cannabis.
Stipe left us with a few basic rules of thumb:
"THC in your mouth (or unsure), no driving. Engage with your employer. Explain your circumstances and work through your policies with your employer.
If you are impaired, don't go near the road.
If you don't have THC in your mouth and you're not impaired, whether you've got THC or CBD prescribed to you or both, it's probably going to be best to engage with your employer and make sure that a drugs and it's related impairment policies are considerate of your needs and your capacity to engage in your work."
If you'd like to learn more about how you can help change the laws around legal medical cannabis and driving, please visit the Drive Change website.