Welcome to our second This Month In Cannabis (TMIC) article and episode. TMIC is a monthly series released on the third week of each month where Tom Brown, co-founder of honahlee, will discuss important cannabis topics relevant to the Australian market and cannabis community.
This month in cannabis, we're talking about the differences in regulatory requirements and quality between local and imported cannabis products. To learn about this topic in detail, we spoke with Steven Notaro, the Head of Legal & Regulatory Affairs at Cann Group Limited.
If you'd like to jump ahead, here are the topics covered:
Where are medical cannabis products in Australia sourced from?
There are several state and federal bodies that regulate the supply of medical cannabis products in Australia. Because of this, there are a number of requirements that a company must meet before becoming operational.
There is also additional time and effort in actually developing your products, testing them and then getting them to market. In order to kickstart the legal medical cannabis industry, most of the products released to the market initially were from overseas. The bulk of imported products come from:
Fortunately there is a growing number of Australian companies that have navigated the regulatory system and are providing Australian products to patients. Cann Group Limited is one of the larger cultivators of local cannabis. The companies that are distributing Australian products to patients are:
Australian Natural Therapeutics Group (ANTG)
Entoura
Little Green Pharma
Canndeo
These companies often have a lower cost of cannabis product to patients.
The process to become a licensed cultivator & manufacturer of cannabis
Australia has a license and permit system that focuses on two main aspects:
The suitability of individuals operating the business.
The operational requirements of the business.
The first aspect requires a review of the directors and those who are in charge of the business. These requirements look at whether those conducting the business are fit and proper. These requirements also ensure that the company is following ethical guidelines and operating for appropriate reasons.
Operational requirement guidelines are complex. These look at things like facility requirements, standard operating procedures, security measures and more.
On top of these licenses and permits, cannabis is a therapeutic good, therefore the traditional requirements of manufacturing under good manufacturing practices (GMP) and having a license and certificate associated with GMP also apply. These requirements cover the process from seed to patient and are monitored by the TGA.
Australia is very patient focussed. We always need a defined line of sight between a request of the federal government to allow us to cultivate a number of plants or strains to having a connection through to a manufacturer who wants to accept them to manufacture products.
The concept of stockpiling in order to establish the market doesn't exist in Australia. It is very much cultivation for the purpose of manufacturing into products for patient supply.
Quality guidelines for cultivating and manufacturing cannabis products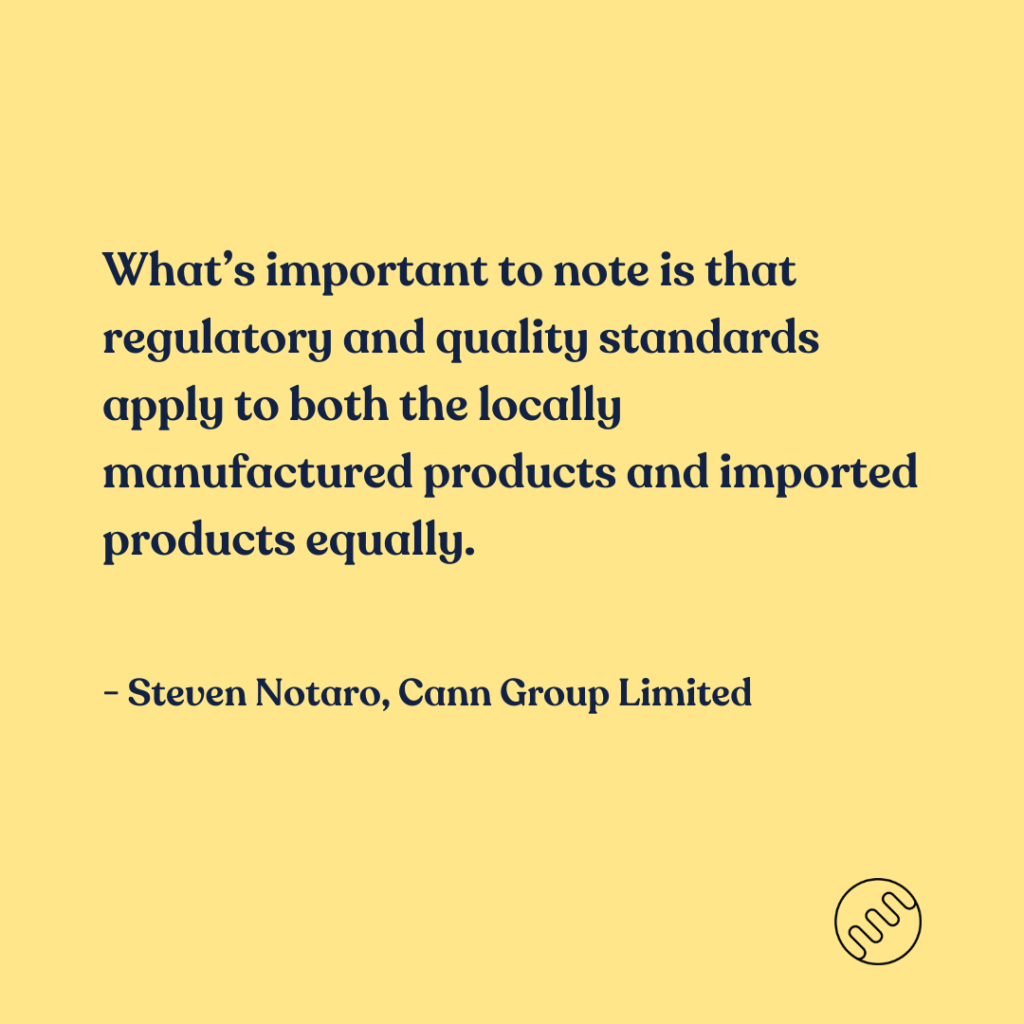 Australia currently has a medicinal only market, with the exception of ACT. This means that the focusses of the industry should be patient access and patient treatment. And, the laws reflect this.
Companies must consider many elements including:
Patient access.
Quality and safety.
Cost to patients.
The fact it's a new industry.
The fact that cannabis has value in an illicit market and,
The heavy regulatory system.
Quite often these considerations are in conflict with one another.
The TGA has issued many therapeutic goods orders to guide regulations, however Therapeutic Goods Order 93 (TGO93) is the standard for medical cannabis. The order covers:
Imported, local and exported products.
Plant, ingredients or starting materials of products.
Steps and procedures used in the manufacturing of products.
What's the difference between local and imported cannabis products?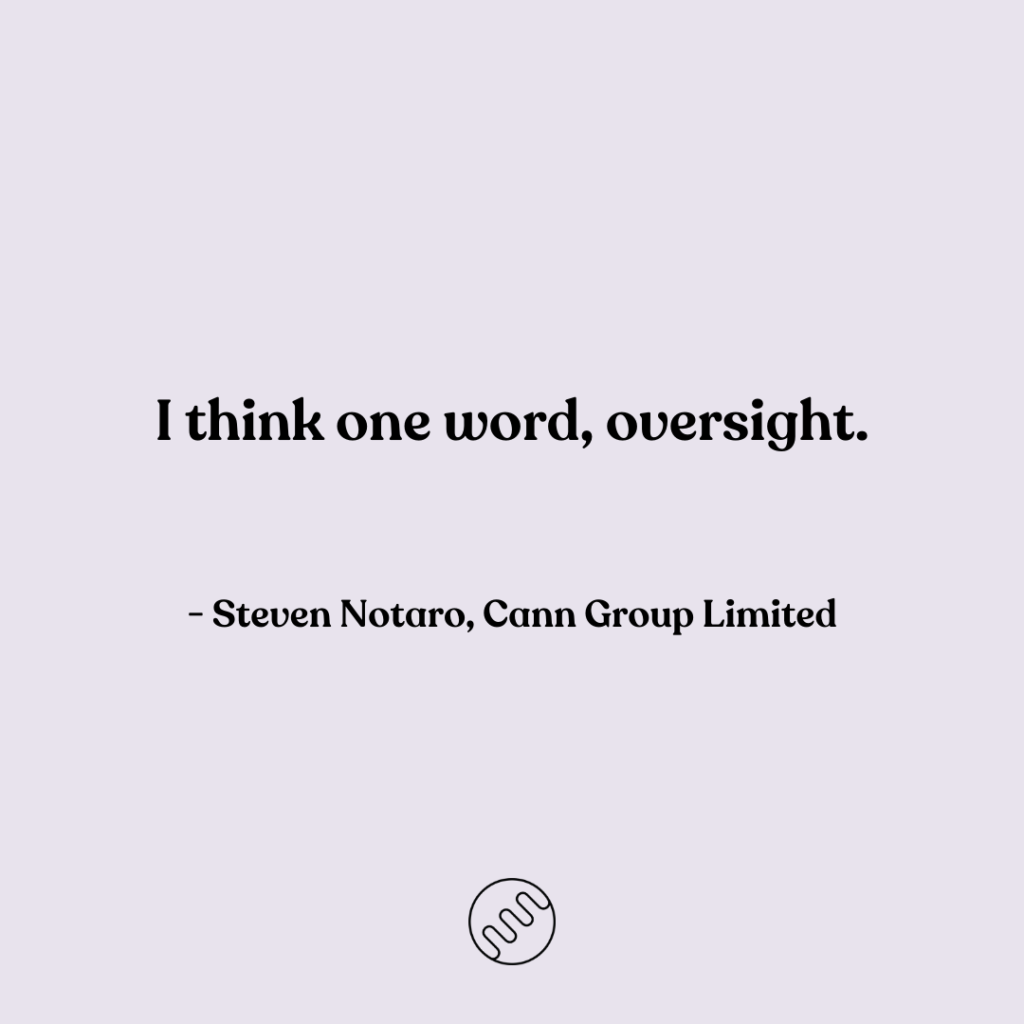 The requirements are the same but are not managed in the same way. For imported products, the TGO 93 requirements are addressed by way of a declaration form by the manufacturer.
The declaration states that they:
Meet the requirements of the therapeutic goods code.
Have certificates of analysis in place and,
Have the stability data to support the claim of the shelf life on the product.
However it's very similar to taxation, it's self-declaration. So it does require the TGA to check that the claims made by the manufacturer are true.
In practice this is much easier with local products than those from overseas. Local manufacturers are inspected directly by the TGA and are audited from time to time. The Office of Drug Control also ensures that the appropriate people are operating the business in accordance with the rules that have been established by that particular federal government department.
These regulators make sure that the cultivated strains are legitimate, and that it is only those strains at that facility going into the manufacturing of the drug.

There shouldn't be additional biomass coming in from other sites. We know anecdotally, and through reports, that grey-market cannabis has been introduced into regulated manufacturing sites overseas.
So locally, two government bodies very tightly monitor and regulate the cultivation and manufacturing of medical cannabis. And, they maintain these standards for local products at the same, very high standards that we've come to expect of any therapeutic goods manufactured in Australia.
Regulation of testing for imported products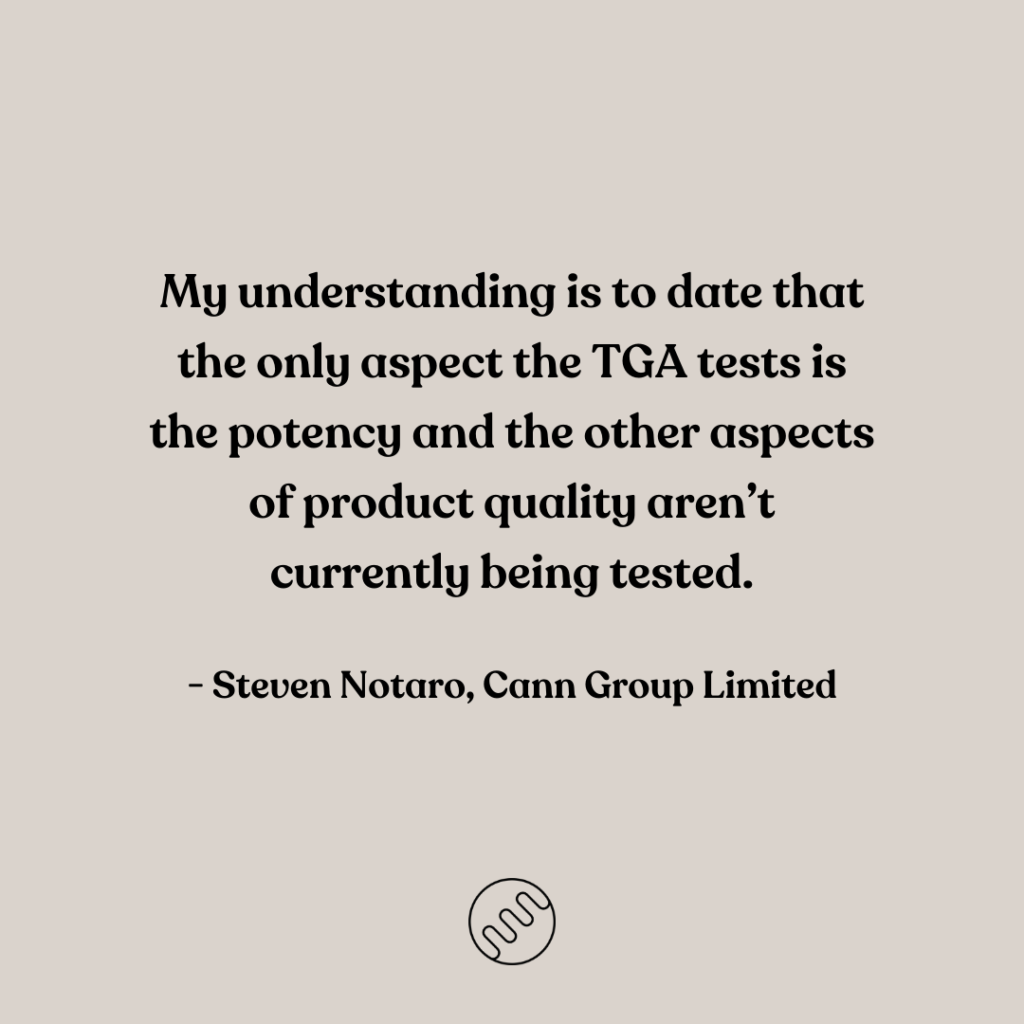 There is a requirement for the manufacturer to test the product themselves and to make sure products meet the standards set out by the TGA.
The TGA also has the ability to request a sample of the imported product to test themselves, to see whether it makes the claims made in that therapeutic goods order.
So, there is a gap in upholding the standards that have been set out for imported materials and products. There is ample opportunity for deviations from an acceptable product pathway to occur before manufacturing, including knowing where the source material has come from.
Why the differences exist & what local producers are doing to help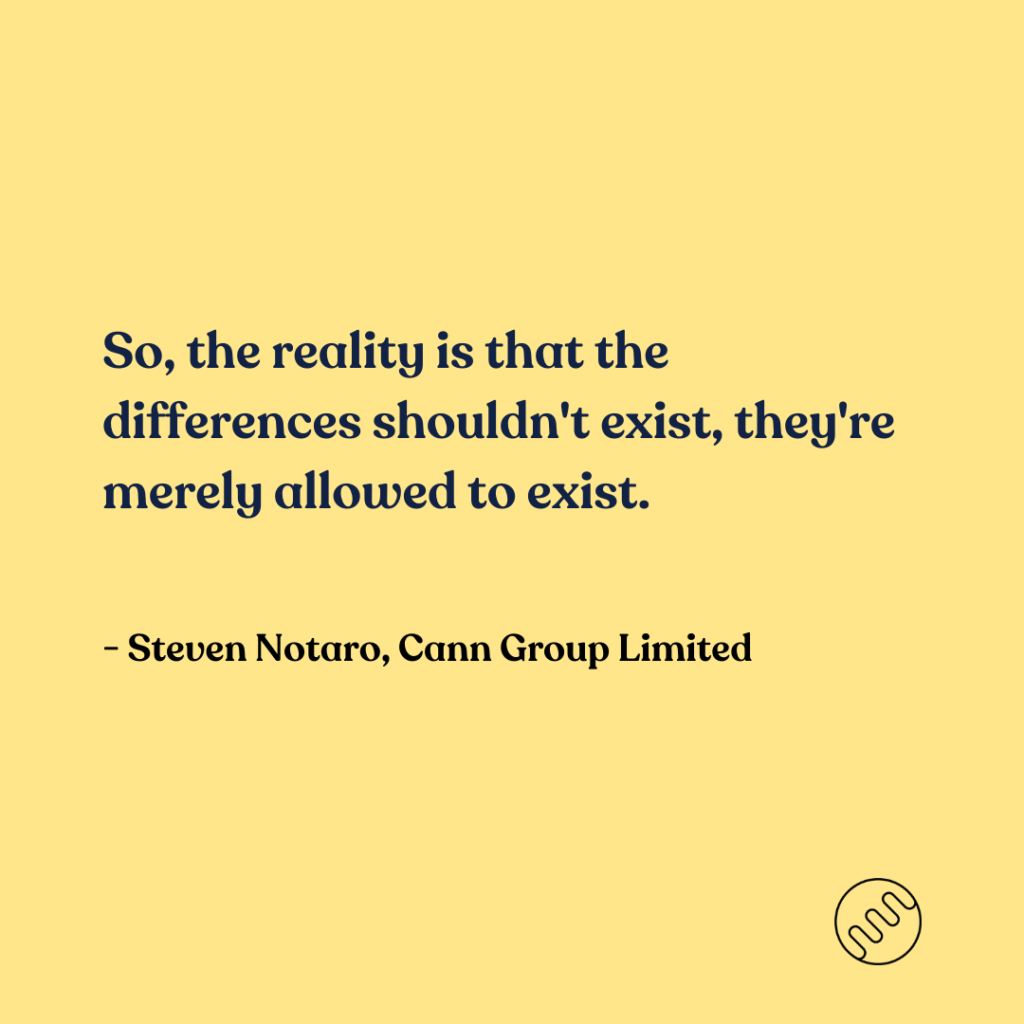 Many of the local cultivators and manufacturers have identified this issue and understand how it affects Australian patients. As a result of wanting a level and fair playing field for all companies, the Medicinal Cannabis Industry Australia (MCIA) association was formed. The MCIA's goal is to:
MCIA members have committed to ensuring full compliance of the local guidelines whether their products are cultivated and manufactured locally or imported.
We hope that our commitment flows through having confidence in Australian made products both from patients and medical practitioners who are treating patients. We hope they know that if the product is Australian produced and specifically from an MCIA member, those very high-quality standards can be guaranteed.
Is the regulatory to patient access balance correct?
The Narcotic Drugs Act Amendment of 2016 required a review of the act two years after implementation. The results of the review which occurred in 2019 showed that there is an over-regulation of the medical cannabis industry.
The balance is too far towards mitigating an unrealised risk of diversion of cannabis.

And, as a result, it doesn't support the streamlined cultivation and manufacturer of our product in a way that can get those products into the hands of patients in a more timely manner and in a more cost-effective manner.
Australia currently has a three licensing system. As a result of the review, the Office of Drug Control is going to be implementing a new licensing system with a single license model.
The hope is that, under that new license model, some of that regulatory burden is reduced, and we see improved patient access to Australian manufactured drugs.
Will these requirements align in the future?
The reality is that it will be difficult for local regulators to ever regulate imported products in the same way as local products.
It will come down to how individual regulators in overseas territories monitor their companies and the quality standards they impose. Any products exported from Australia reflect our laws and regulations, likewise imported products reflect the standards of overseas regulations.
How to connect with Steven Notaro.
Steven Notaro is the Head of Legal & Regulatory Affairs at Cann Group Limited. You can connect with Steve on LinkedIn or learn more about Cann Group Limited on their website.