Medical marijuana access pathways
There are over 15,000 active medical cannabis patients in Australia. To some that may sound like a lot, to others very few. The fact is that the process of obtaining a medical cannabis prescription in Australia is not always clear. In order to obtain legal access to medical cannabis products, you need to get a prescription from your doctor or a specialist in some cases. But, many doctors don't understand how it works either.
The goal of this article is to reduce the complexity around accessing medicinal cannabis in Australia.
To make the process easier to understand for both doctors (feel free to send this to your doctor) and patients, we've broken it down into four major steps:
Learn the basics of cannabis – THC vs CBD
Choose an access pathway
Once you've covered off all four steps, getting a prescription for medical cannabis will be a walk in the park.
In this article, we'll cover what many find to be the most complex aspect of the process – access pathways and how to get a prescription from a doctor.
Here's what the article covers, feel free to jump ahead:
The three access pathways:

Recommended steps to accessing medical cannabis

Start with your GP
Fall back on cannabis clinics
We also have created an infographic which you can download as a summary of the access pathways.
Medical cannabis access pathways are very similar state by state with few exceptions. We recommend reading this article first. If you still have questions, please read our state by state cannabis access article (coming soon).
The three medical cannabis access pathways
A prescription for medical cannabis can be obtained in three different ways:
Any doctor, specialist and most nurse practitioners can request permission to prescribe
An Authorised Prescriber can prescribe
You can take part in clinical trials
Doctor, Specialist or Nurse Practitioner prescriptions – the SAS B application process
It's always recommended that you start with your regular health provider (or find a local cannabis doctor). Your GP or regular health provider knows your medical history the best.
In every state in Australia, a doctor and most nurse practitioners can request to prescribe medical cannabis. So, the reality is that getting a prescription can be as simple as asking your regular doctor for it as long as you meet the eligibility criteria.
Because many doctors don't actually understand the SAS Process it's a good idea for you to understand the basics. For a doctor new to this process, it can be a bit daunting, however, once they've completed a couple of applications, they'll realise there's a process they can follow. Here is what your doctor will give to the TGA via an online portal:
A patient diagnosis and indication for which the cannabis product is sought.
A thorough clinical justification for the use of the product.
Sufficient safety and efficacy data to support the use of the product.
Details for how the patient will be monitored for adverse events and different patient responses to the treatment.
Note: For point 1 above, your doctor will need to select a category of products. In the SAS portal, there will be a dropdown of all product categories. Your prescriber can access a list of detailed product information on all products via the Catalyst Cannabis Medicines Database.
For points 2 and 3 above, doctors will need to use clinical research that exists, including observational data to justify the script. It's best to go to a product manufacturer (supplier) to get help with this process for free.
If your doctor says that the research or safety and efficacy data doesn't exist – remind them that the TGA has already approved over 100 conditions.
Once submitted your doctor should hear back within 72 hours with either an approval or request for more information – the TGA doesn't 'reject' applications.
It will then be up to your doctor to provide further information or, if approved, set up an appointment to talk through the treatment program and give you your script.
Number products per application & changing products
SAS B applications are for categories of products. If your prescriber wants to prescribe multiple products in the same category, they will only need to do one application. If they want to prescriber products in different categories, they will have to do multiple applications.
Authorised Prescriber process
An Authorised Prescriber (AP) is a doctor who has applied to the TGA for authorisation to prescribe a specific product for a specific condition or class of conditions. APs are not a special type of doctor – they can be a GP or specialist who has been granted AP status. Nurse practitioners are not allowed to become APs.
These doctors have gone through a lengthy upfront approval process. Once an AP, they do not need to apply to the TGA each time they prescribe. In order for a doctor to get AP status, they must meet medical experience criteria and medical cannabis experience criteria. The applications are very long and include questions about the conditions they want to prescribe for, traditional treatments for the condition(s), why they're not applicable, cannabis product information, dosages and more.
There isn't a list of APs (and many APs don't want themselves listed) so it's very hard to find an AP. Ask your GP about cannabis and you may be surprised.
Number of products per application & changing products
APs are able to write you a script on the spot. A script is for a single product but an AP can give you multiple scripts as long as they have the authority to prescribe for the condition and the category of product.
If an AP needs to change your medication, they may be able to do so via their AP authorisation and if not, they can also apply via the SAS B pathway.
Clinical Trials
Becoming part of a clinical trial is the third pathway to access medical cannabis. While this pathway is one of the least used pathways to accessing medical cannabis, people are desperately needed to take part.
Clinical trials fall into a number of categories and are available for a broad range of conditions. To take part in a clinical trial you should:
Find out which clinical trials are available.
Talk to your doctor or a clinic about taking part.
Recommended steps to access medical cannabis
Recommended starting point: Your GP or Nurse Practitioner
It's always best to start by speaking with your GP or Nurse Practitioner (NP). Your primary care practitioner knows you and your medical history. Cannabis will become a part of your medical treatment which, quite often, your GP is in charge of. It's important that your health providers understand all of the treatments you're receiving and how they interact with one another.
Another reason to start with your primary care practitioner is to help improve GP or NP's knowledge of medical cannabis. A major barrier to patient access is health practitioners not knowing or being interested in learning about cannabis. You can help change that.
We've heard of many cases of patients telling their GPs that they'd find a new GP if the doctor wasn't willing to help. Quite often it can be enough of an incentive for the doctor to look into it.
What if my GP doesn't know anything about cannabis?
There are a number of places that your GP can learn about prescribing medical cannabis and many of those resources are free. Here are a few resources you can give to your doctor to help educate them:
Catalyst – Catalyst is a tool created by honahlee that offers free education to health practitioners (Prescribers and Pharmacists). You may want to share the how to prescribe medicinal cannabis article.
Althea – Althea's support portal is Free. Althea provides RACGP accredited courses as well as practitioner resources and scientific articles.
Entoura – Entoura's support portal is Free. Entoura provides medical cannabis 101 information, practitioner resources, scientific articles and free information sessions to help doctors learn about conditions and prescribing.
LGP – LGP's portal has free RACGP accredited course, recorded GP training sessions, application assistance and more.
Medihuanna – Medihuanna provides both free and paid courses that are accredited by the RACGP.
Note: There are many other providers and portals who can help your GP.
It's also important that you prepare to talk to your GP and arrive at your appointment with as much information as possible. Your appointment has a much better chance of working towards your ideal outcome if you come prepared. You want to show your GP you're knowledgeable while allowing them to be in charge of your treatment. Balance is very important.
If your GP isn't interested in helping you access medical cannabis, we recommend looking for an experienced local prescriber or a cannabis clinic.
An Alternate Pathway to Access: Cannabis Clinics
While many people take the cannabis clinic's route, they really should be a second option. It's important to start with your GP because they have your medical history and know you best. Also, the more GPs prescribing medical cannabis, the faster the industry will grow and the easier patient access will become.
Clinics are experienced in the SAS process. Many clinics also have APs on staff so it makes things a bit easier.
Some clinics require referrals and others don't. A referral is an important part of the process because it allows the clinic doctors not only to get your medical history but also means that they can stay in touch with your main doctor and keep them up to date on your treatment.
If your GP isn't willing to give you a referral, it may be best to find a cannabis clinic that doesn't require a referral. We've written a detailed article on cannabis clinics which contains pricing and referral information.
Some clinics provide in-person appointments while others are telehealth only. For an appointment with a cannabis clinic, you'll need:
Your full medical history
The medications that you're currently on or have been on in the past.
Provide as much detail about your medical history as possible.
Following a clinic pathway will often start with a screening call where you'll find out eligibility and then have a call with a doctor where you'll talk about treatment. Once approved via a clinic, some clinics will have a follow-up consultation to talk through your treatment plan while others will have a follow-up consultation a month or two later.
How long does it take to get medical cannabis?
Depending on the route you go, your cannabis product arrival time may vary. Here are the average times for both the SAS and AP routes. Remember, a cannabis clinic may go via the SAS or via an AP route.
(SAS B) Timeline
The typical steps for a GP are: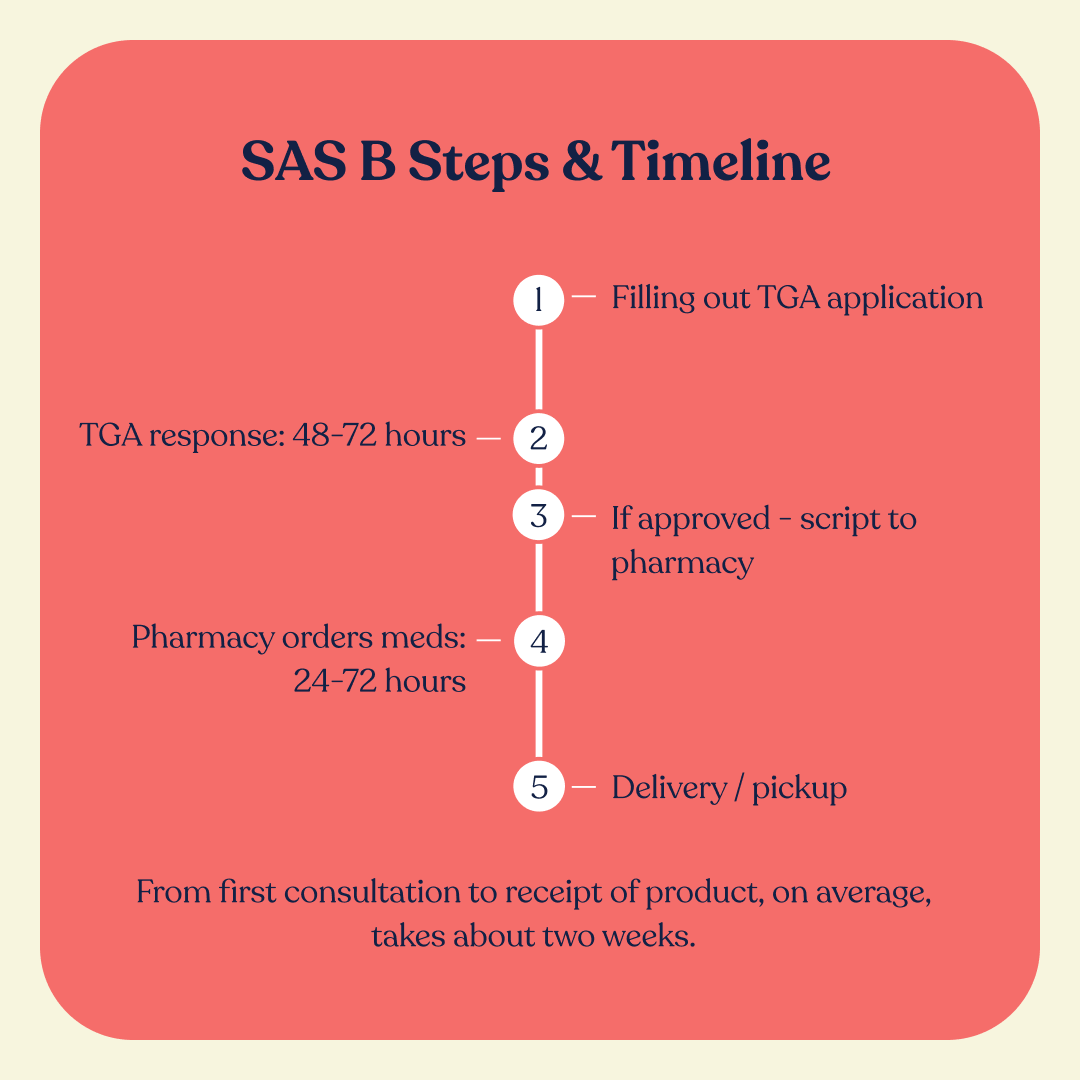 So, best-case scenario is about a week from the first consultation to receiving your product. On average it takes a couple of weeks.
AP Timeline
Authorised prescribers don't need to apply to the TGA. There are however sometimes variables that mean they can't give you a script on the spot. In any case, the average time to receive your product from first consult with an AP is about a week.
Approval and your script
It's important to understand that depending on the route you take, GP, AP or Clinic, the way you actually obtain your script may vary. If you're seeing your doctor in person, quite often they'll give you a physical copy of your script. You can then take that script to a pharmacy.
If you go via a telehealth appointment, often the doctor or clinic will choose the pharmacy for you and the product will be delivered. You may not get a copy of your script in that case.
To learn more about the number of doctors you can have, number of scripts and details about pharmacies that dispense cannabis check out our doctors and scripts article.
Now that you understand the access pathways, here are some Access FAQs:
Are there medical cannabis subsidies for veterans?
The Department of Veterans Affairs (DVA) is increasingly providing subsidies for veterans. Unfortunately at this stage, it's not a given. Veterans are often able to claim for conditions like chronic pain more easily than mental health conditions like PTSD.
The DVA is however, working with doctors to improve access. Often your doctor will need to fill in the validated questionnaire for the particular condition before starting treatment. Then, once treatment has begun, and there's evidence that it is working, the DVA will look at providing a subsidy.
While the current process is a bit backwards, we're making strides in improving the process.
Is medical cannabis covered by the PBS, Medicare, or the NDIS?
It's important to remember that medical cannabis is an unapproved medicine only accessible through the Special Access Scheme. Because of this, cannabis is ineligible for the PBS.
With relation to Medicare, this question came up in the Senate inquiry into medical cannabis in 2019. There was a recommendation to look into the medicinal cannabis rebates. Unfortunately, we are still waiting to hear more about this.
There have been patients who have been covered by the NDIS. There is however no specific process to apply. The cases that have been approved have been a lengthy process where a specialist was able to fight for the patient.
If I'm already consuming cannabis should I tell my doctor?
Yes, absolutely. There are a few reasons you should tell your doctor. Firstly, if you're self-medicating and it's helping already, you have a stronger case for the GP write a script. If your GP doesn't want to help – you can also say that you'd like their assistance in getting a legal medicine for quality and consistency benefits.
The other important reason is that if you do get prescribed, knowing that you aren't cannabis naive (your body is used to it) will help the doc choose the right product for you. For example if you have chronic pain and your self medicate with a CBD & THC plant, you'll likely be started on a THC product because your body is used to it.
Access Summary (infographic)