In this article, we cover nine cannabis clinics. There's a lot of information so the article is set up to allow you to navigate to sections or clinics that are important to you. We've also added tables and charts to help you compare the clinics more easily. Here is an overview of what we'll cover:
What are cannabis clinics?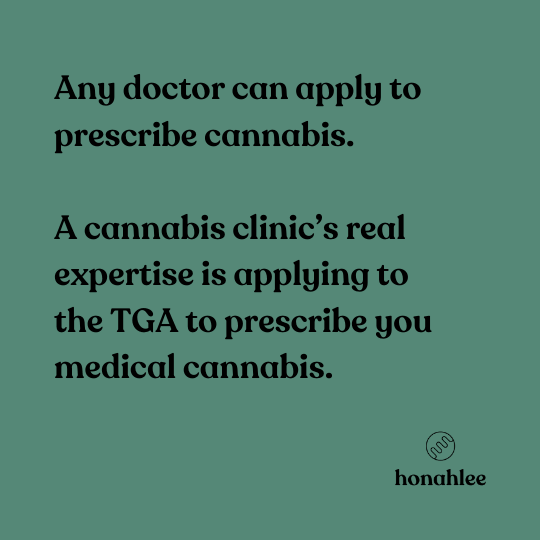 Cannabis clinics are (mostly) independent clinics run by doctors who specialise in assessing medical conditions and then prescribe medical cannabis as a treatment for your diagnosed conditions. In most cases, the clinics' doctors have a great deal of knowledge about cannabis. But, it's not cannabis itself that is the clinic speciality. These doctors understand cannabis very well and know enough about the medicine to prescribe it and treat patients with cannabis once approved.
The good news is that both independent doctors and clinics are beginning to gain specialist knowledge in medical cannabis.
Any doctor can apply to prescribe cannabis. But, a cannabis clinic's real expertise is applying to the TGA (Therapeutic Goods Administration) to prescribe you medical cannabis. In many cases, a referral from your GP will help with the application process. However, some of the clinics don't require them.
In the cannabis clinic exploration section, we'll tell you which clinics require referrals and which don't. Price plays a big factor in medical cannabis too. While clinic and doctor prices vary, the cost of medical cannabis should be similar from most prescribers.
It's also important to note that once you've been prescribed cannabis by a specific doctor or clinic, they become your prescribing doctor. You can only fill your scripts through them. If you switch doctors, you'll have to pay again as the new doctor will need to apply to the TGA also.
Not every person with a medical condition is eligible for medical cannabis. So, it's important to understand whether or not you qualify for medical cannabis when embarking on this journey.
Types of cannabis doctors
Here in Australia, there are two types of cannabis doctors:
GPs who prescribe cannabis for a range of conditions.
APs (Authorised Prescribers) who prescribe cannabis for specific conditions.
GP's often prescribe for a larger range of conditions. Most of the clinics have GPs as prescribers. AP's tend to have practices or work in clinics that focus on specialist areas, like clinics for chronic pain.
Speaking to your GP vs an Authorised Prescriber (AP)
General Practitioners
While GPs are able to prescribe medical cannabis, going to your GP rather than a cannabis clinic or AP can be a more difficult and drawn-out process. Cannabis is still very taboo in Australia whether it be for medical reasons or adult-use purposes. Because of this, many doctors still don't know much about medical cannabis. Their aversion to learning about cannabis is one of the biggest challenges we have with medical cannabis in Australia. These doctors can leave patients feeling guilty about their inquiry; In some cases, after speaking with their doctor, patients have given up.
If you're lucky enough to find that your GP is willing to submit an application for a cannabis prescription, you may learn very quickly that they haven't done it before, or have done it very few times. In some of these cases, the doctors feel overwhelmed by the TGA application process. The TGA process requires doctors to provide a medical history, research on your condition and cannabis, and a treatment plan. If A doctor lacks experience with the TGA or the process, it could mean a delay in the submission of your application. There are also cases of applications not being fully complete which has meant the return of applications multiple times before acceptance (or rejection).
Authorised Prescribers
An Authorised Prescriber has authorisation to prescribe cannabis directly to patients for specific medical conditions. To clarify, APs have applied to the TGA and been given the approval to prescribe cannabinoid medication(s) to individuals who are under their immediate care. They are only approved to treat specific medical conditions.
For example, an AP who works in a pain management clinic might have applied to the TGA to prescribe a specific THC and CBD oil to individuals who are experiencing chronic pain. While they don't need to put in Special Access Scheme (SAS) applications for each patient, they do need to apply again if they want to prescribe a different medication. Every six months, APs must also report how many patients they have prescribed medication.

In conclusion, there are GPs out there who are prescribing cannabis as a medicine and doing it very successfully. Unfortunately, the majority of GPs have limited cannabis knowledge or don't want to prescribe it. APs are also a good way to access medical cannabis. The problem is, there isn't a list of APs available and they can often only prescribe for certain conditions. If you're able to find a GP or AP willing to treat you, we'd recommend you do your research and start there.
Why use a cannabis clinic?
People can get overwhelmed about medical cannabis because there are various ways to get a prescription in Australia. You hear about the SAS and Authorised Prescribers. You hear about talking to your GP and stories about special cannabis clinics. The taboo of cannabis paired with all the big terms and masses of information about medical cannabis pathways cause confusion about how to access cannabinoid medicine. People often don't know who to speak with about treatment options.
While cannabis is not treated (or prescribed) as a first-line intervention for medical conditions in Australia, it's quickly proving to benefit patients across a multitude of conditions. Many Australians are suffering from medical conditions for which other medications aren't meeting their needs. Cannabis clinics can often be their saving grace because of their willingness to apply to the TGA for the medicine.
The doctors who work in cannabis clinics are well versed on cannabis as a medicine and post prescription treatment methods. These doctors and the clinician teams are able to get people the medication they so desperately need.
A list of Australian cannabis clinics
For transparency, it's important to tell you that the following list has been compiled by the honahlee team without the influence of any of the clinics in the list. The clinics have a range of locations, patient processes, steps, pricing, treatments and clinician options.
The following is a list of cannabis clinics who are in, and service, Australia. We've compiled this list with your knowledge and health in mind:
Clicking the name of each of the clinics above will take you to their websites. To see a review of each of the clinics and their offerings, please continue reading.
Cannabis clinic comparison
As you can see, there are actually quite a few options for you if you decide to go to a cannabis clinic rather than through your GP. The clinics all have similar processes. But, they have different pricing structures and requirements in order to use them as your cannabis doctor. Some clinics also have different product offerings because of relationships with suppliers or because they have vertically integrated practices. That being said, any doctor can prescribe any of the medicinal products on the market as long as the doctor can find a registered supplier of the product.
To help you to start your decision-making process, we're breaking out our analysis of these clinics into three parts. In this section of the article, you'll get locations and features, process and pricing, and finally an overview of reviews. In the cannabis exploration section below, you'll see information about each clinic in more detail. There are also some quotes and ratings from people who have used the clinics.
Note: People say that they don't want to go through some of the clinics because they are giant government organisations out for profit; They claim the clinics are not really in existence for patients. The reality is that some of these clinics are larger companies that will list on an exchange. Other cannabis clinics will choose to stay private because they have different business objectives.
A few of the clinics on the list are smaller and only have a few doctors. An important thing to know on your research journey is that you'll hear a lot of opinions along the way. Do what you can to find the facts.
We are not saying you should use a clinic over your GP or vice versa. The honahlee team is here to give you the facts so you can make your own decision.
Locations & Features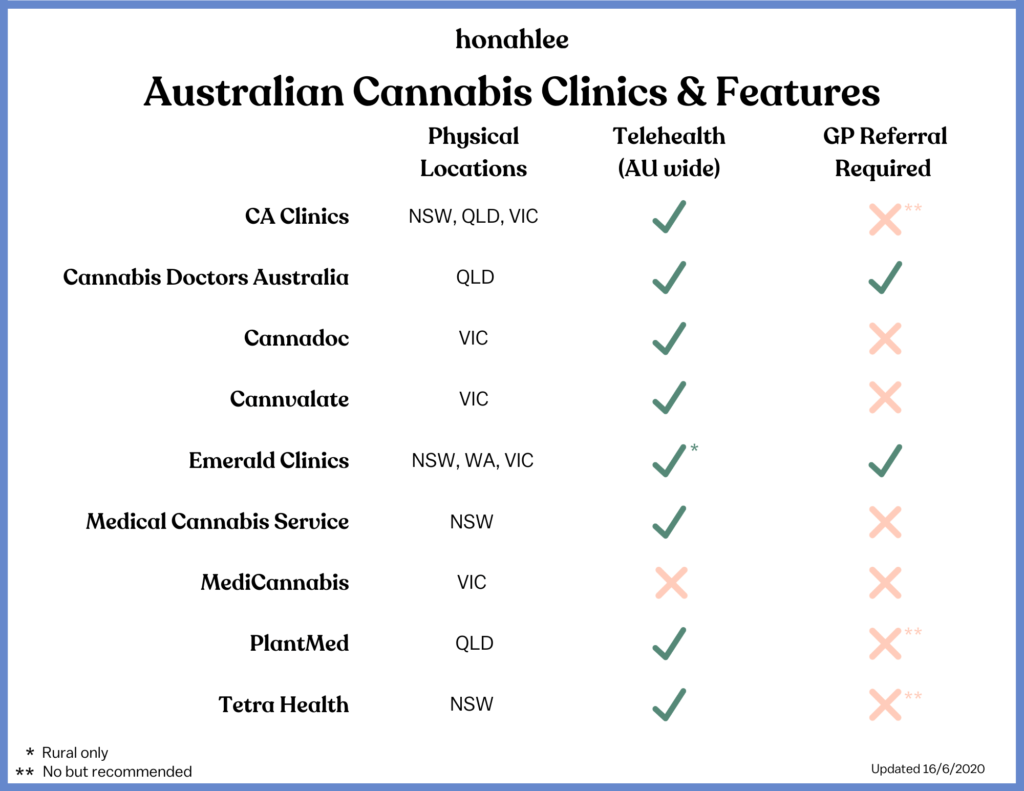 Process & Pricing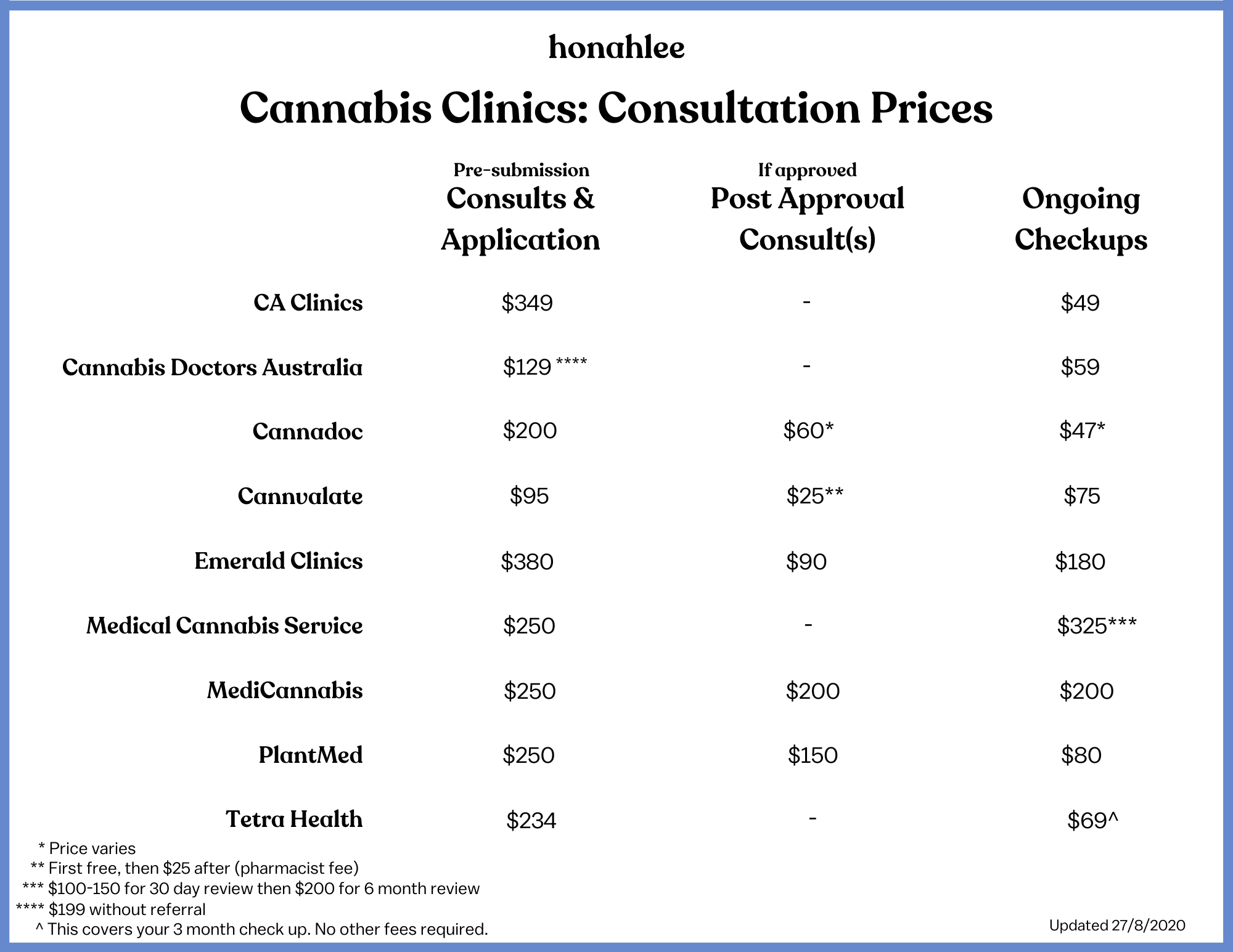 Most of the cannabis clinics have a similar structure in terms of their patient process:
Screening – usually over the phone
Initial consult – via phone or in some cases in person
Application to TGA
Post-approval consult (if approved)
Regular checkups – most doctors want to see you on a monthly basis initially
When speaking with a clinic about their process, it's good to know how often the doctors will want to speak with you so you know how much care you'll get and what your costs are likely to be.
Cannabis Medication Pricing
We've left out the price of the medication because the cost of medication depends on numerous personal factors. In order to work out what the price will be monthly, you need to speak with your doctor about your condition, the type of medication you'll be prescribed, the dosage and how often you'll take your medication. Doctors often follow a 'low and slow' approach when it comes to determining the correct dosage. So, for your first few months of cannabinoid medicine, the costs may vary.
What we can tell you is that most doctors and clinics say that you'll spend somewhere between $4 and $15 a day, which is somewhere between $120 and $450 a month. For a detailed analysis of medication costs, please see the cost of cannabis in Australia article.
While this is what the clinics are saying we have heard stories where medical cannabis is costing people upwards of $800 a month.
Google review cleanup
We've organised the following list in order of clinics with the most to least reviews in order to give you a summary. The review rating you'll see below is our 'cleaned up' review summary. We've gone through each review and removed the spammy ones to give you a more truthful view of each clinic. Spammy has been defined as reviews by an individual with only one review lifetime and/or no comments.
If you'd like further information about each clinic, including actual patient reviews of people we've communicated with, we've done a more detailed analysis of each clinic in our detailed analysis section below.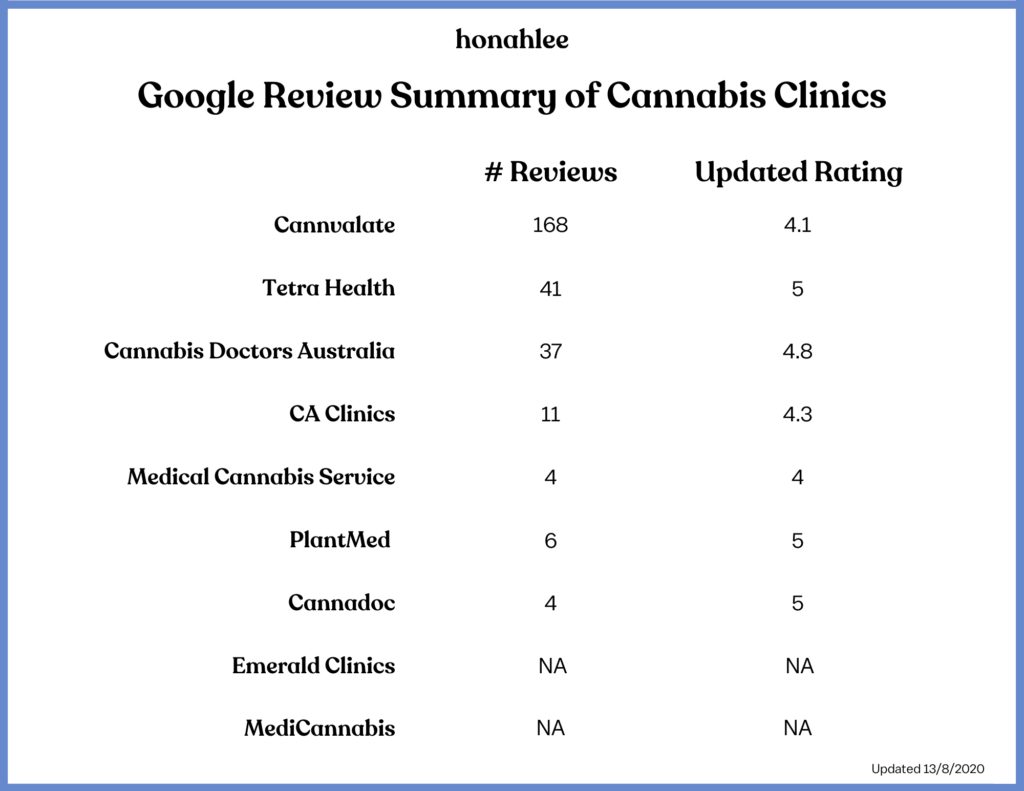 Next, let's take a closer look at each clinic so that you can make your own decision on whether one of these clinics will be the best for you.
Exploring each cannabis clinic
In order to write this section of the article, we reviewed each company's website, were in direct contact with some of the clinics to ask questions and spoke with individuals who have experienced the clinics. If we couldn't get in touch with anyone who has been through the process with the company we'll make a note in that company's section.
Clinic Navigation Links:
If you're reading this and you've had an experience with any of these companies, good or bad, and would like to share your story, please tell us your story.
CA Clinics (CAC)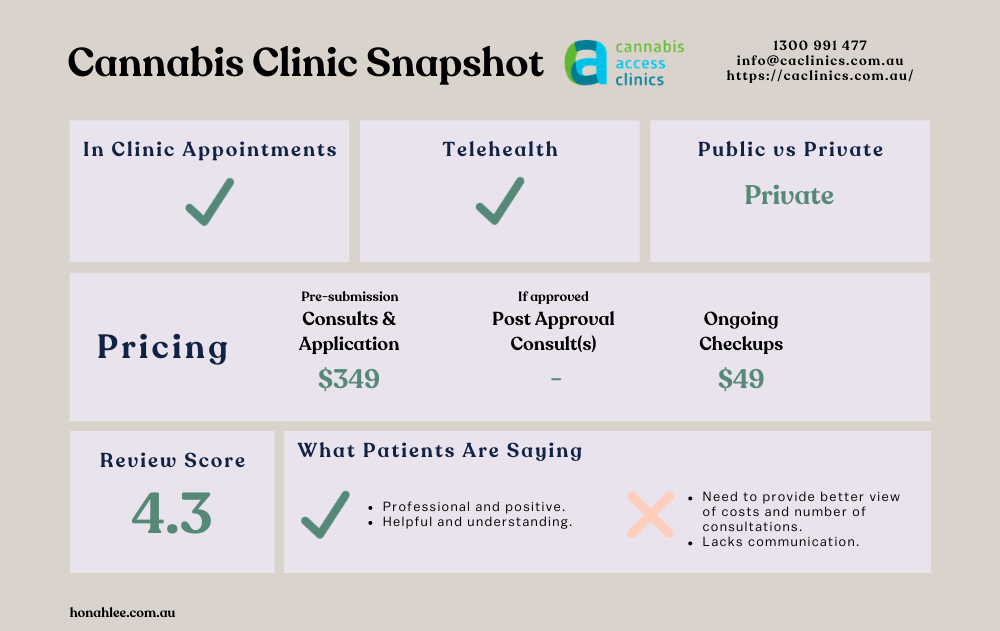 CA Clinics was originally known as Cannabis Access Clinics. They rebranded to CA clinics due to TGA restrictions. CAC received a lot of press early in their existence because they were Australia's first cannabis clinic. CAC has one of the most 'accessible' websites (no pun intended). All of the forms you need to get started are right on their homepage. When we reached out to ask questions about their service, they responded within 24 hours. They offer telehealth so that you don't have to be local to see a specialist.
They also have a veteran's program which helps to cover medicinal cannabis costs for "qualified veterans suffering from conditions such as PTSD, Chronic pain and other conditions." CA Clinics seems to be the cheapest option for veterans due to the fact that vets only pay $250 for the whole process.
CA Clinics is now the second most expensive option before getting your prescription. To see a doctor and get an application submitted is about $350. If approved you're looking at an $49 follow up fee for each consultation.
Reviews
CA Clinic's google review score was a 4.3/5 with 12 reviews. We had a look through the reviews and removed four of them as they had no comments. The final review score remained a 4.3 out of 5 stars.
Since writing this article, we've attempted to contact CA Clinics a few times. Their response was within 72 hours three of five times with the other two taking about five business days. Overall, our experience with CA Clinics and the comments we've seen on social media are consistently positive.
Cannabis Doctors Australia (CDA)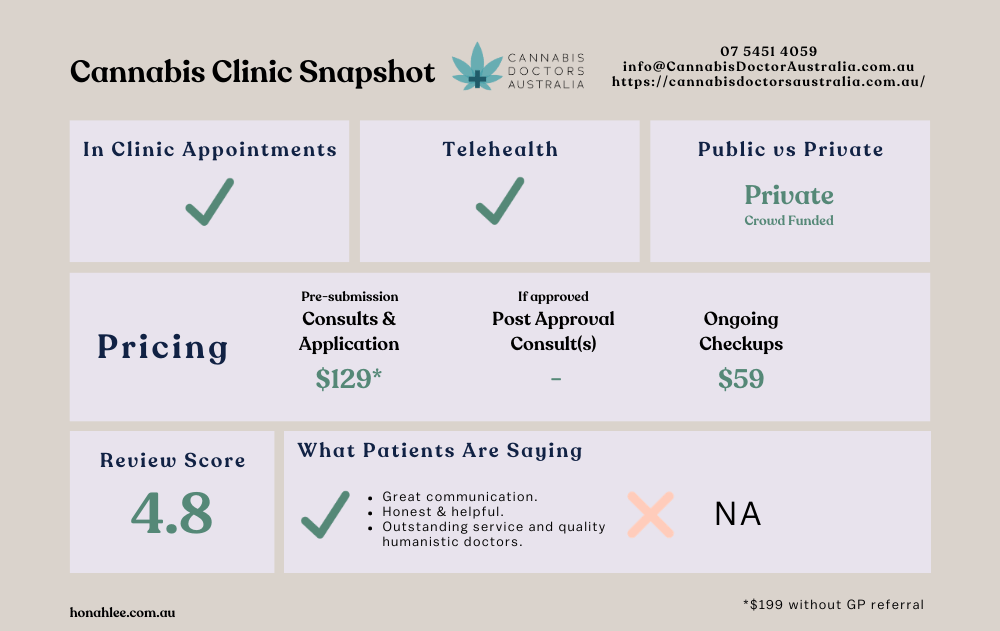 Cannabis Doctors Australia (CDA) has its main clinic located in Varsity Lakes QLD. They were the first cannabis clinic in Australia to crowdfund the scaling of their business. Dr Ben Jansen is the head doctor at CDA. He has helped educate numerous people by doing regular Instagram posts which are effectively Q&As about medical cannabis. They're short, concise and very insightful.
Not only is CDA making a name for themselves with patient education and cannabis access but they also own Burleigh Heads Cannabis. Burleigh Heads is a CDA partner company that's licensed to develop cannabinoid medicines. They wholesale to other doctors and clinics and their products are prescribed by doctors across Australia.
Their website has some of the best information around their pricing structure and helps guide patients through their process. The trickiest part to their site is that there are so many different pages. At times, it feels like you're a bit lost.
Reviews
CDA's google review score was 4.8/5 with 37 reviews. We reviewed all of the comments and even after removing some spammy reveiws and those with no comments, the final score for CDA was still 4.8/5 stars.

People regularly talk about CDA on forums and other channels. This is likely due to their heavy engagement on social media and the fact that some of their patients have invested in the business which does lead to a bit of a conflict of interest.
Over time, the comments about CDA on social media have deteriorated. There are now two major complaints:
Patient service
Quality of Burleigh Heads Flower
While CDA patients used to consistently praise their timely responses and flawless service, recently patients have reported getting busy signals when calling and wait times of up to a week for return phone calls.
When it comes to product, there have been a number of complaints about CDA's flower. Patients have reported that the Burleigh Heads range often contains stems or trim and is a bit on the dry side and seems old. This may be one of the reasons that CDA is prescribing their liquid vape cartridges more frequently as of late.
Our experience with contacting Cannabis Doctors Australia has been good. We've always received a response within 72 hours and the team is knowledgeable and helpful. Unfortunately, the experiences we've had and those of patients seem to be diverging. We'll leave it to you to compare google reviews with the other information you can find via social channels to make a call.
Cannadoc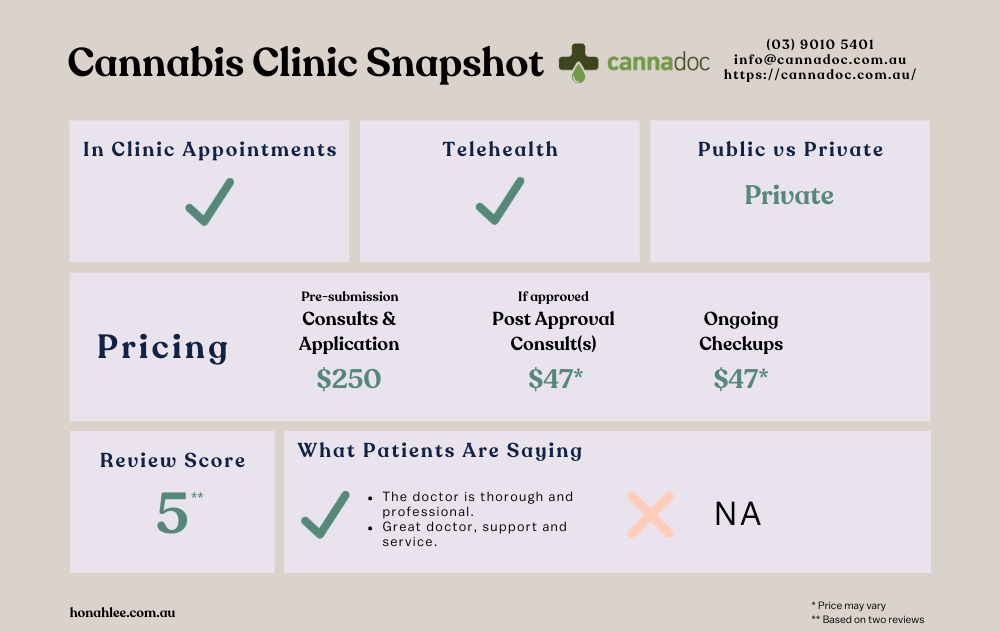 Cannadoc seems to be most popular in VIC. It seems like they might just really be getting started as they only list a single doctor profile. While they have both in-person and telehealth consultations, we haven't been able to find any information about people out of state being prescribed by Cannadoc. Cannadoc's website covers off all of the basic needs you may have – information about their process, links to forms etc. The main website issue is that some of their documents aren't easy to find. Their referral form is in their FAQs in case you're looking.
Reviews
Cannadoc only has two google reviews, both providing them 5/5 stars. Both reviews have information about what the patients liked and responses from Cannadoc which is generally a good sign. 
We emailed Cannadoc asking a few questions about their products and never heard back. Based on the fact that the clinic seems small and you may get a more personalised service, the fact that the average cannabis clinic price to submit an application is $332 and Cannadoc is about $300 to get to the application submission process, if you're local to Melbourne this may be one to do more research on.
Cannvalate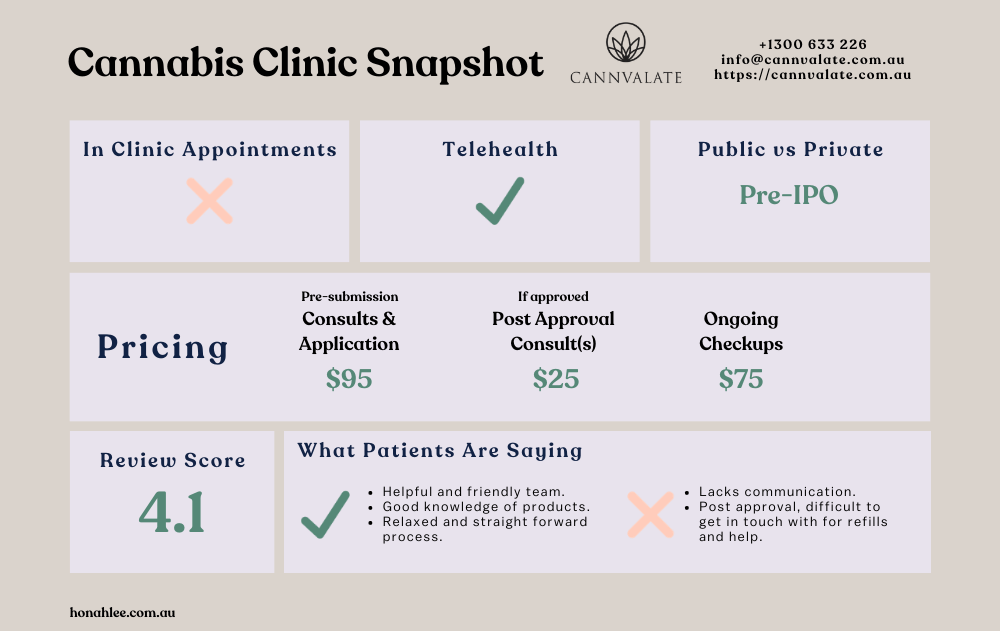 Note: as of October 2019, Cannvalate does not offer combustible or vapeable (flower) medical cannabis products. For an explanation you can view this article about vaping.
Cannvalate is a Melbourne based company that connects patients to doctors and medical cannabis through their own large doctor network. They offer telehealth so you can be a resident of any state or territory in Australia to go through one of their doctors.
The company reports that they have over 2,400 prescribing doctors across Australia and that most of the broader team is made up of doctors. They attribute this factor to be a major contributor of the business's success. Since launching in 2018, Cannvalate has raised capital, run clinical trials, and in June 2020 announced their partnership with The Valens Company, a Canadian medicinal cannabis business listed on the Toronto Stock Exchange.
The partnership makes Cannvalate the project manager for the setup of the biggest medicinal cannabis extraction and contract manufacturing plant in Australia.
Reviews
Cannvalate wins the award for 'most google reviews' by a decent margin. At the time of updating this article they have 150 reviews. After examining the reviews and removing all reviews that are blank or obviously spammy (60 in total), they get 4.1/5 stars on google. From what the reviews say, the biggest challenge they have is communication. Even a couple of the good reviews say that their communication could have been better. Facebook reviews seem to say the same.
Emerald Clinics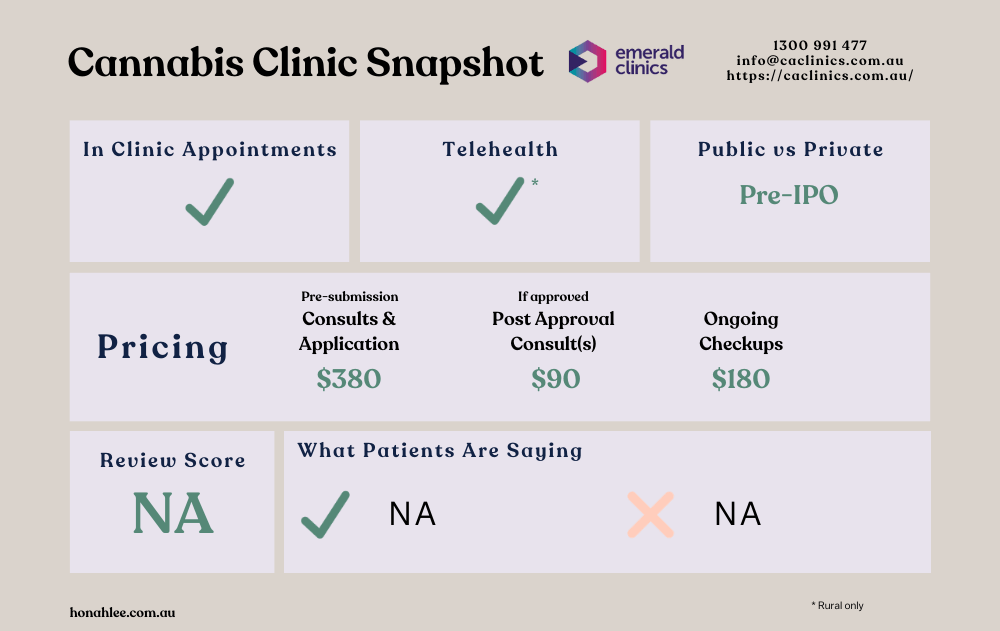 Emerald Clinics launched in early 2018 as a health-tech and services company. They have since been serving patients across Australia. Their head office is in Perth WA and they have other locations Australia-wide. While many of the other clinics in our list are very focussed on patient access, Emerald has added a major area into their business suite, data. Emerald has taken the approach that using real-world evidence and data, rather than just relying on clinical trial data, is the future of the medical cannabis market.
The benefit or the Emerald approach is that doctors are spending a lot of time with patients to understand their conditions and to come up with the right treatment for the individual. While they are using data from clinical trials, they are also combining that data with thousands of other data points on patients with a range of medical conditions. They state that "we may see patterns emerging that will help us to understand which treatments or combination of treatments are safest, most economical and of most benefit to current and future patients."
In taking the real-world data approach, Emerald has raised a couple million dollars and is now set for an IPO. While Emerald does have telehealth, they were clear to state that it's only used for people with special circumstances.
Reviews
Emerald Clinics has been one of the most difficult cannabis clinics to find information about. They have no google reviews and don't even have google business listings. Their Facebook page has two reviews and both are glowing which is a good sign.
When we contacted Emerald, we were always met with a response in under 24 hours. The team member writing back was kind and helpful. Emerald costs roughly $470 for your initial consultation and application to the TGA which makes it the second most expensive clinic on the list. While it is quite costly, the fact that they are doing so much work on using patient data to inform treatment could mean a better overall service for their patients.
If you do have experience with this clinic and would like to share, please feel free to send us your story.
Medical Cannabis Services (MCS)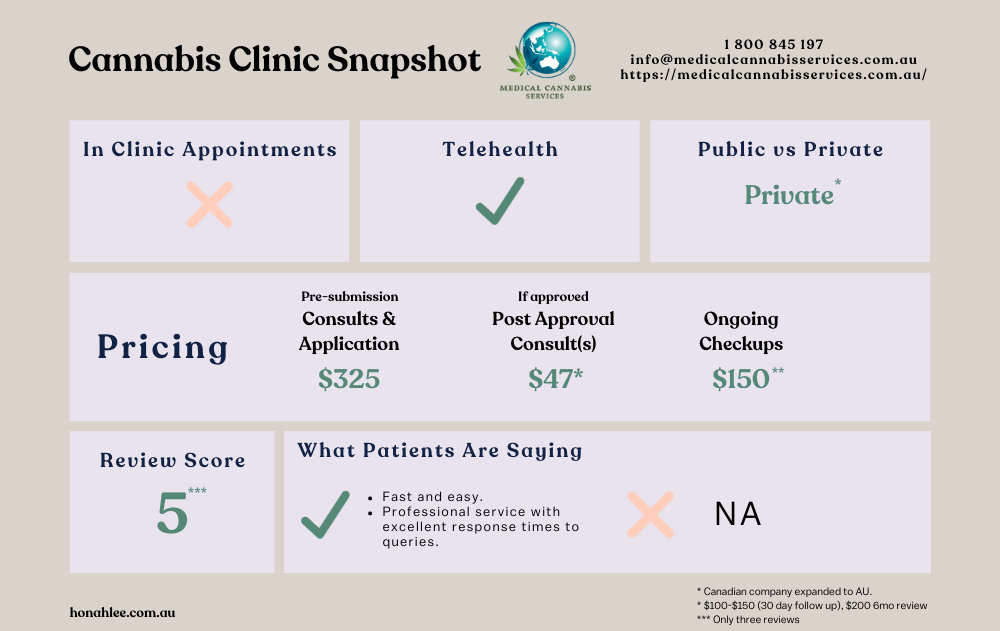 Medical Cannabis Service (MCS) Australia opened in 2017 and originates from Medical Marijuana Services (MMS) in Canada. The parent, MMS, has been running since 2013. Medical cannabis Service has 12 locations across Australia and claims to have serviced over 50,000 world-wide. The website alludes to the fact that they mainly do telehealth consultations to help keep your costs down. However, MCS chargest approximately $325 for the initial consultation through to application $325 (the average clinic price is $253).
Their website looks a bit old and outdated and there isn't much information about the company or the process overall. Some of the sections of their site also have the same information written over and over which would signal that they aren't really monitoring what's happening with their site.
Reviews
We contacted MCS a couple of times and each time they responded within 24 business hours. They have 4 google reviews with an average of 4/5 stars. There is one review that seemed to be spammy which we removed. The final score with spam removed is a 5/5 stars.
With so little information about MCS we won't say anything more about the service and will leave it up to you to decide whether MCS is right for you.
MediCannabis Clinic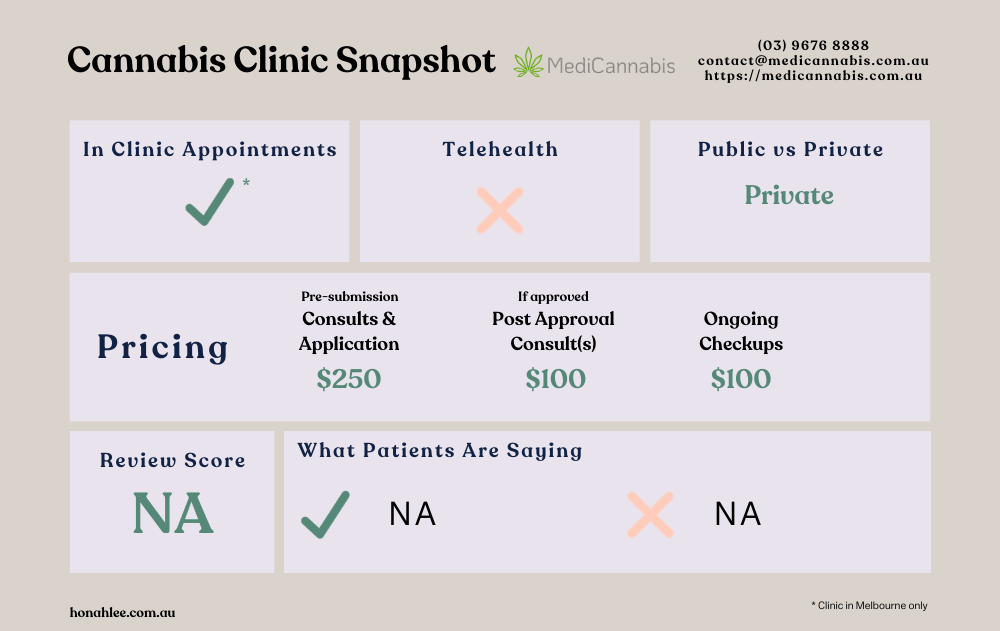 The MediCannabis clinic is a clinic located in Melbourne and states that they are a service, "for the prescription of medical cannabis in Melbourne, Victoria, Australia." So, if you're not located in Melbourne, this clinic is not for you. MediCannabis clinic states that they have APs on staff which is the way they get you access to medical cannabis. This, however, is a bit contradictory as they quote fees for SAS application fees and admin work (APs don't need to put in SAS applications for each prescription).
Their website has good information about cannabis and certain medical conditions. This is a bonus for patients who don't know much about the research behind their condition and cannabis. Their page about the application process doesn't really have much substance and almost makes the process a bit more mysterious.
Reviews
MediCannabis clinic has no reviews on google and we couldn't find anyone who has experience using the clinic. If you do have experience with Medical Cannabis Service and would like to share, please feel free to send us your story.
PlantMed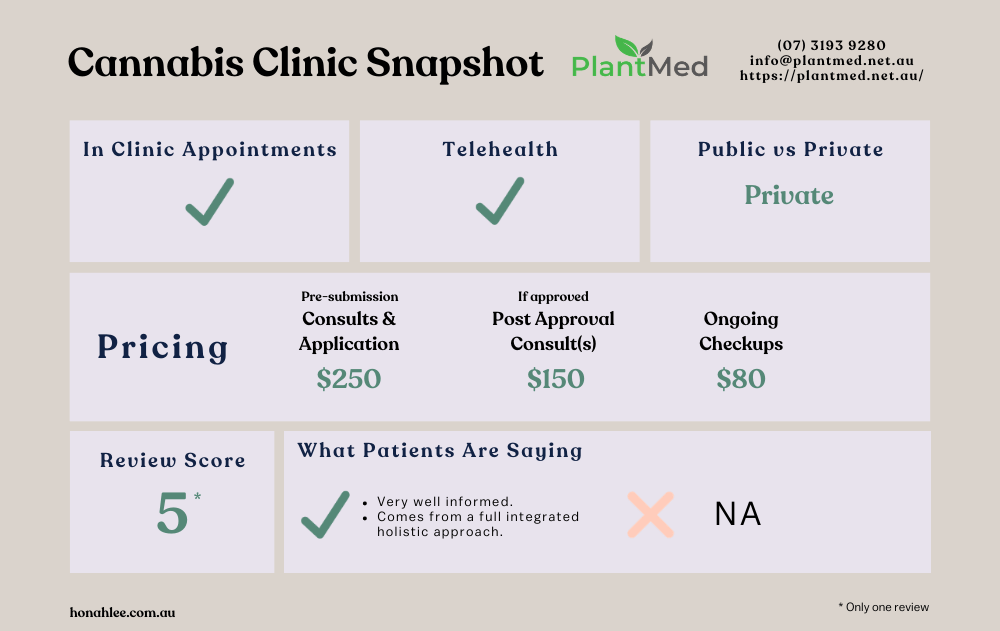 PlantMed is a cannabis clinic set up by Dr John Teh with their practice located in Brisbane. Their website says that they work in conjunction with each patient's team of doctors and health professionals to incorporate Medicinal Cannabis as an adjunct treatment to alleviate symptoms and improve patient treatment outcomes.
The clinic offers both in-person appointments and telehealth so you don't have to be local to meet with a doctor. Dr Teh has worked hard to become one of the better-known cannabis doctors in Australia and their site has a good range of educational videos for those who want to learn more about cannabis as a medicine. While it gets the job done, the website can be hard to navigate and it isn't very easy to understand their actual process. 
Reviews
There is only a single google review that rates PlantMed a 5/5 stars. On Facebook, they have another handful of reviews, all very happy with the business and Dr Teh. We contacted them a couple of times and received responses back within 3 hours of each message. The team member who wrote back was kind, thoughtful and very thorough. We haven't spoken to anyone who has used PlantMed so we are unable to provide any further feedback. If you have experience with this clinic and would like to share, please feel free to send us your story.
Tetra Health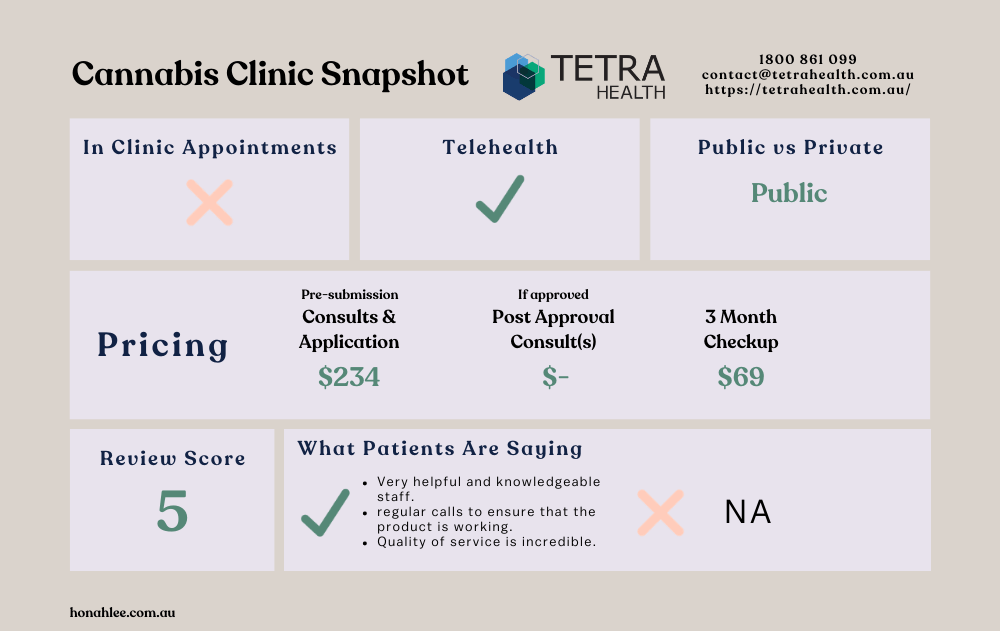 Tetra Health opened its doors in 2018 and has its head office in NSW. It was one of the first cannabis clinics to get press about its process and how easy it is via a 10 daily report. They claim to be Australia's Most Affordable and Trusted Health Services Provider. Quite a bold claim. Their pricing structure seems to put them in line with what they say. You pay $50 for your consultation and then, only if approved, you pay $250 which covers your first year's consultations fees. After your first year, it's only $150 for every year after.
Tetra Health's website is pretty sparse but you can find your referral form and high-level information about the process on the homepage. The FAQ has a bit more information and the about us page covers off their team very well. In short, you might not find all the answers you want on their site. We wouldn't be surprised if you need to ask a few more questions before committing to the initial consultation, even though it's quite cheap when compared with some of the other clinics.
Reviews:
Tetra health has 14 google reviews which puts them in the middle of the pack in terms of review numbers. However, all of the reviews for Tetra are 5 star and unlike the other clinics, every single one of the reviews has some substance. It seems that the 5/5 stars may be deserved.
We received direct communication from three people who have used Tetra Health (and are listing their averages below). One of them is still in the process and didn't answer all of the questions. We asked them to rate Tetra out of 5 on each of the following:
Communication – 4.5
Ease of process – 4.5
Ease of approval – 5
Medication quality – 4.5
Would you recommend – 3.5
Everyone felt that communication from Tetra Health was great. The main issue raised was that Tetra Health limits the amount of cannabis you are prescribed. Patients don't understand why that limit exists. One of the patients said that they never go through the amount of cannabis allowed every two weeks so this limit wasn't a problem. Another patient said they had a higher dose so it made things difficult.
We reached out to Tetra Health about the cannabis limit. The response from Diandra Phipps, the COO, was there may have been a miscommunication between the clinic, patient and pharmacy however there is not a limit.
If you have experience with Tetra Health and would like to share, please feel free to send us your story
Our conclusion on Aussie Cannabis Clinics
There are quite a few cannabis clinics out there for you to choose from. The general consensus is that while these clinics help people, medical cannabis prescriptions cost far too much money for it to be sustainable. Remember that any doctor can apply to the TGA to prescribe cannabis, so clinics are not your only option. The reasons you might choose to go to a clinic over your regular GP are because your GP doesn't know much about cannabis, doesn't want to prescribe cannabis or you feel that you'd like a more streamlined process.
If you'd like to learn more about accessing medical cannabis in Australia, you can go to our Guide To Medical Cannabis in Australia. We'd love to hear your story if you've experienced one of these clinics or a doctor, for better or for worse. If you've found this article or any of the information helpful for you or someone you know and love, please feel free to share the article or any of the images from the article.