Note: Any GP or Nurse Practitioner (NP) can prescribe cannabis Australia wide. We recommend starting with your GP or NP.
In this article, we explain what cannabis clinics are and discuss some of the things you should consider when picking a prescriber or clinic. There's a lot of information so the article is set up to allow you to navigate to sections or clinics that are important to you. Here is an overview of what we'll cover:
What are cannabis clinics?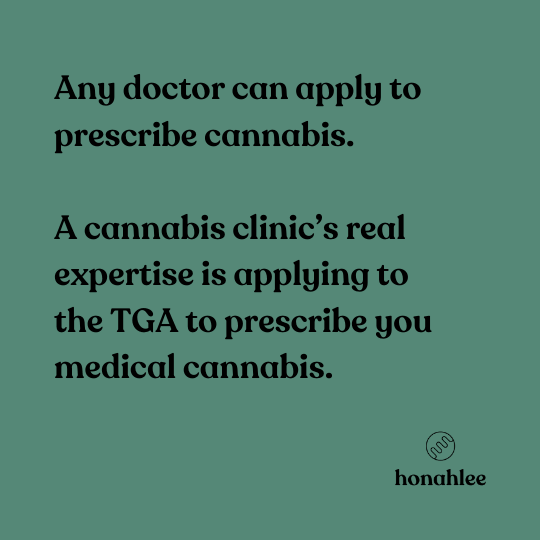 Cannabis clinics are (mostly) independent clinics run by doctors who specialise in assessing medical conditions and then prescribe medical cannabis as a treatment for your diagnosed conditions. Doctors and nurses at cannabis clinics spend most of their time prescribing medical cannabis to patients. So, these healthcare professionals are often quite knowledgable about cannabis.
We'd also like to blur the lines of cannabis clinics and clinics that have doctors who prescribe cannabis. Many of these clinics that prescribe cannabis are either specialists (ie pain specialists) or will be much more attuned to holistic treatment, rather than just prescribing cannabis. And, we believe this is the best approach for healthcare.
The good news is that both many independent doctors are beginning to gain specialist knowledge in medical cannabis.
Any doctor can apply to prescribe cannabis, but a cannabis clinic's real expertise is applying to the TGA (Therapeutic Goods Administration) to prescribe you medical cannabis. In many cases a referral from your GP will help with the application process, however, some of the clinics don't actually require them.
In the cannabis clinics comparison section, we'll tell you which clinics require referrals and which don't. It's also important to note that once you've been prescribed cannabis by a specific doctor or clinic, they become your prescribing doctor, and you can only fill your scripts through them. If you switch doctors, you'll have to pay again as the new doctor will need to apply to the TGA also.
Once you've been prescribed cannabis by a specific doctor or clinic, they become your prescribing doctor. You can only fill your scripts through them. While you can have multiple prescribing doctors, it's best to have a single source for all of your treatments. If you switch doctors, you'll have to pay again as the new doctor will need to apply to the TGA also.
Not every person with a medical condition is eligible for medical cannabis. So, it's important to understand whether or not you qualify for medical cannabis when embarking on this journey.
Types of prescribers
Here in Australia, there are two types of cannabis prescribers:
GPs or NPs who will apply via the Special Access Scheme (SAS) to prescribe cannabis for a range of conditions.
GPs or NPs that are Authorised Prescribers (APs) who are able to prescribe cannabis for specific conditions without an application.
At this stage in the legal framework, most clinics have GPs or NPs who prescribe via SAS and GPs and NPs that are APs.
Some of the cannabis clinics you'll read about have a team of doctors across Australia who help take you through the process and prescribe cannabis. While the inner workings of the clinics may not be that important to you, it's helpful to understand how they work.
Why use a cannabis clinic?
People can get overwhelmed about medical cannabis because there are various ways to get a prescription here in Australia. You hear about the Special Access Scheme (SAS) and Authorised Prescribers. You hear about talking to your GP, and stories about special cannabis clinics.
The taboo of cannabis paired with all the big terms and masses of information about medical cannabis pathways cause confusion about how to access cannabinoid medicine, and people often don't know who to speak with about treatment options.
While cannabis is not treated (or prescribed) as a first-line intervention for medical conditions in Australia, it's quickly proving to benefit patients across a multitude of conditions. Many Australians are suffering from medical conditions for which other medications aren't meeting their needs.
Cannabis clinics can often be a saving grace because of their willingness to apply to the TGA for the medicine. The doctors who work in cannabis clinics are well versed on cannabis as a medicine and post prescription treatment methods. These doctors and the clinician teams are able to get people the medication they so desperately need.
Other cannabis clinic considerations (and conflicts)
As you can see, there are actually quite a few options if you decide to go to a cannabis clinic rather than through your GP. The clinics all have similar processes but have different pricing structures and requirements in order to use them as your cannabis doctor. In this section we'll cover a few other considerations you might want to think about when looking for a clinic.
Product offering
Discounted Products / Reimbursements (ie DVA)
Health professional & appointment duration
Product offering
Each clinic will have different product offerings. However, any doctor can prescribe any of the 500+ cannabis products to a patient. You'll find that some of the clinic pricing lists leak online on a fairly regular basis. Quite often, not all of the product prices on those lists are up to date or correct. Other clinics don't provide patients with product lists.
It's important to know that while a clinic may have a list of products, if you ask them to prescribe one not on their list, some of the clinics will look into prescribing those products for you.
Some clinics do have a conflict of interest when it comes to the products they prescribe. We've added these conflicts of interest on each clinic page
It's not to say that these products are bad or that these clinics are inherently doing anything wrong. It is, however, important that you know what the relationships are so that you can ask the right questions and confirm that the products are right for you.
Your clinic and doctor should be able to answer all the questions you have about their relationship to the products they're prescribing and why they're choosing that specific product. If you get any push back or agitation from a prescriber, you may want to think twice about using that clinic or doctor.
Discounted Products / Reimbursements (ie DVA)
Some clinics offer special rates to Veterans, concession card holders and rural patients. Other clinics offer bulk billing for certain types of patients.
We have not listed the clinics with these offerings because they change from time to time and many of the rules around who can and can't be bulk billed, for example, are not easy to explain. It's important that you call or email clinics if you think you should be eligible for certain discounts.
The DVA does offer cannabis reimbursement to veterans for certain conditions. Any clinic should be able to help veterans access the DVA's cannabis scheme, however, some clinics have special pricing, like bulk billing, for veterans as well.
Health professional & appointment duration
The final area of clinics that we'd like to bring your attention to is the amount of time you get with the healthcare professional prescribing you cannabis. While people often complain about the cost of medical cannabis, the cost to access cannabis via a clinic is quite high. In working to bring the cost of clinic pricing down for patients, some of the clinics are also decreasing the amount of doctor to patient time spent on prescribing.
When talking to your potential clinic, find out if you'll be speaking with a nurse only for all appointments or whether you'll actually see/talk to a doctor. You'll also want to know how long your appointments will take. Some clinics run doctors appointments that only last 10 minutes while others will have appointments that can last up to 45 minutes.
There's no right or wrong answer. You really need to decide what's going to be best for you in your treatment journey.
Conclusion
While going through your GP is the best place to start your medical cannabis journey, cannabis clinics can be a great option. The important things are to do your own research before choosing a clinic and to make sure you understand the different conflicts that your clinic may have. Go on google reviews and read the clinic reviews in detail, not just the number or score.
Using social channels to help with your research is great, but remember that certain clinics have patients who are investors and other clinics have accounts set up and employees in some of these channels who are promoting their own clinics.
Now that you have most of the relevant information about your options and the clinic environment you should be able to make the best choice for your medical cannabis journey.