CBD Oil In Australia
There are many reasons you might want to learn about CBD oil (cannabidiol oil). When you look at the cannabis industry, CBD oil is still one of the most talked-about topics. People throw around the term CBD regularly with relation to medical cannabis; Frequently these same individuals don't actually know what CBD oil is.
In Australia, there are various types of CBD oil available by prescription. And, as of Feb 1, 2021, low dose CBD oil is legal in pharmacies only (not online). And, we won't actually see CBD oil over the counter until 2022 and onward.
Even so, there are online shops that claim to sell CBD oil in Australia. While they probably are selling some sort of CBD, it's not legal.
Whether you have heard friends or family talking about CBD, you think it might benefit you for a medical condition, or you feel like it's a good supplement for your health and wellness regime, this article is for you. In this article, you'll learn answers to the following questions:
What is CBD Oil?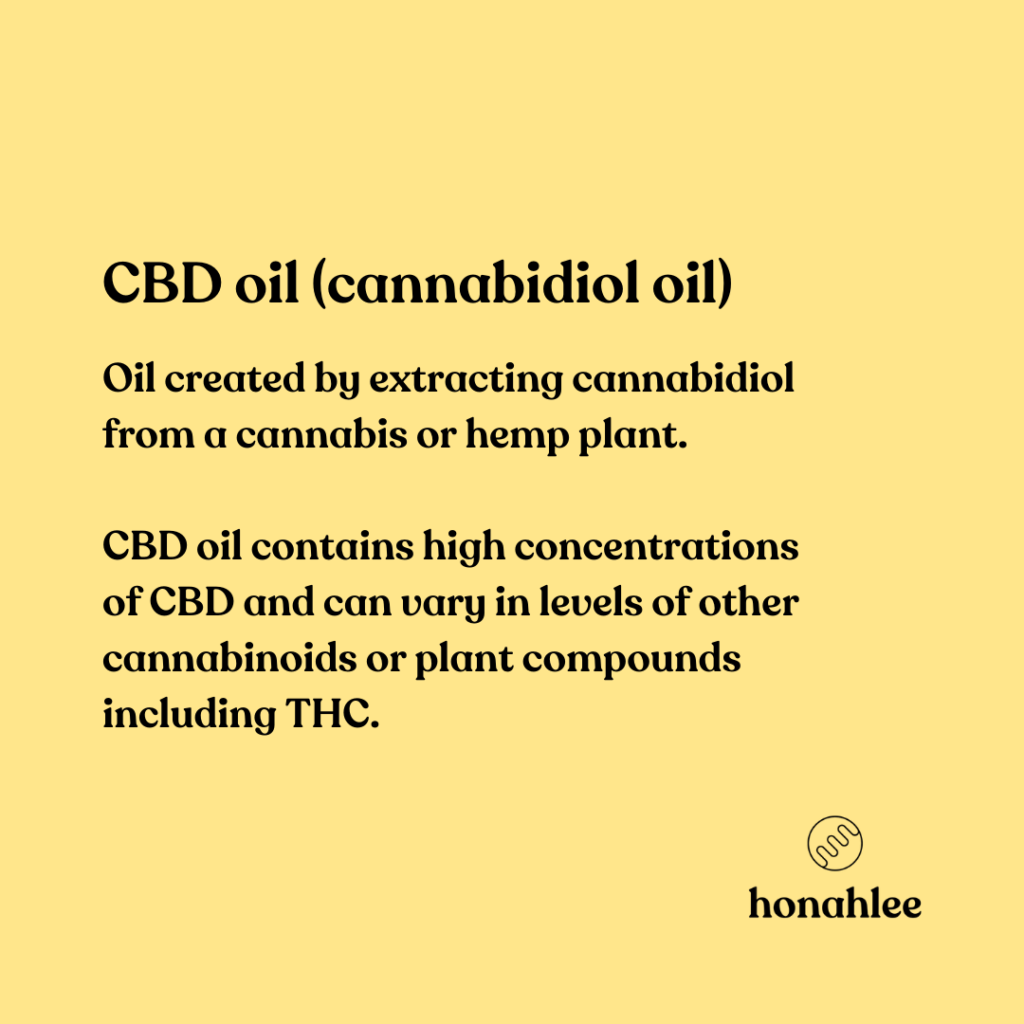 To answer the question, "What is CBD Oil," you first need to know what CBD is.
CBD stands for cannabidiol. Cannabidiol is a natural and non-intoxicating cannabinoid found in the cannabis plant and is abundant in hemp. CBD is one of cannabis's non-psychoactive compounds. There is clinical evidence documenting the value that CBD has in treating some neuropsychiatric disorders (i.e. epilepsy, anxiety and schizophrenia). There are also hundreds of thousands of cases, real-world evidence rather than clinical evidence, where CBD oil and other CBD products are said to have helped people (and pets) with numerous other medical conditions.
So, what is CBD Oil?
CBD oil, or cannabidiol oil, is an oil created by extracting cannabidiol from a cannabis or hemp plant. The result is an oil that contains high concentrations of CBD and can vary in levels of other cannabinoids or plant compounds.
People use the term CBD to encompass many types of CBD extracts, and the use of the name has started to confuse people. CBD oils may have a range of cannabinoid profiles and medicinal or health benefits. It can come in any of the following product forms:
Capsules
Oil
Tinctures
Vape oils
Edibles
There are also multiple types of CBD oil, including the following:
PCR hemp oil or PCR CBD oil
Full-Spectrum CBD
Broad-spectrum CBD
CBD Isolate
Later in this article, we'll explain the different processes used to make CBD oil. The different types of oils have various chemical properties and benefits. Each type of CBD oil will suit different needs and requirements based on what profiles you want. We'll discuss each of the types of CBD oil in-depth in the next article so you understand the pros and cons and can decide if one of them may be right for you.
Where does CBD (cannabidiol) come from?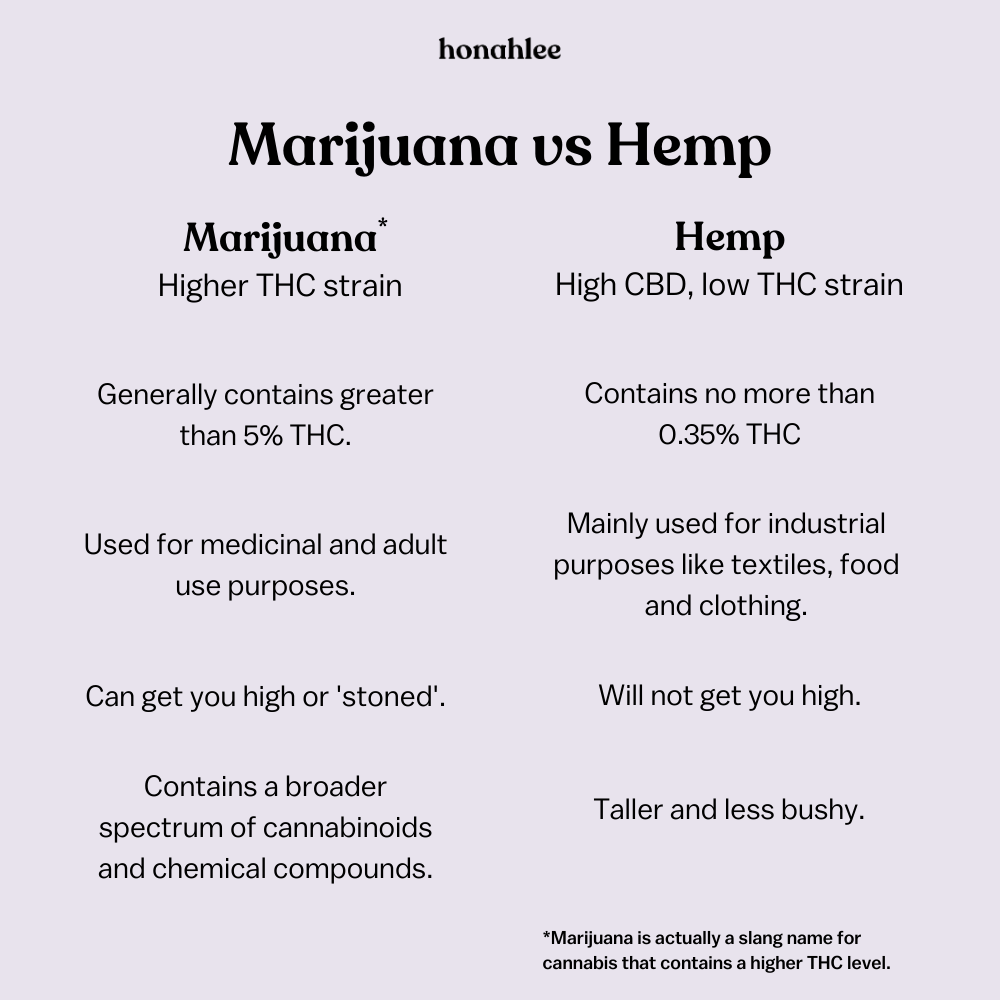 Unlike other chemicals in cannabis, like flavonoids and terpenes, cannabidiol only exists in the cannabis plant. When we say the cannabis plant, we mean both hemp and what people think of as marijuana. For the remainder of this article, we'll call "marijuana" cannabis and hemp…hemp. While hemp and cannabis come from the same species of plant, their cannabinoid and terpene profiles are different. As each type of plant has different chemical compound profiles, the CBD oils that come from each of the plants also have different profiles.
For example, hemp plants have very low levels of THC to begin with, usually .035% or less in Australia. So, for individuals who want to avoid THC, CBD from hemp may be a better option. Hemp also has a different spectrum of compounds which means that the therapeutic benefits may be different from other plants.
Cannabis plants produce a broader range of cannabinoids and other compounds, particularly THC. Until recently, hemp farmers had to grow vast amounts of hemp to produce CBD oil. Now hemp farmers are growing PCR (phytocannabinoid-rich) hemp plants which allow for smaller crops containing higher CBD yields.
How is CBD oil made?
In this section, we'll give you an overview of CBD extraction methods. While these processes are incredibly detailed, we'll give you the essential information, so you know what to look out for. There are multiple ways that CBD can be extracted from the cannabis or hemp plant and turned into CBD oil. The three most popular ways to extract CBD are:
A CO2 extraction
Oil Extractions
A liquid solvent extraction
CO2 (carbon dioxide) Extraction Method
The CBD industry has grown rapidly over the past few years. With industry growth an the number of businesses making CBD, the CO2 (carbon dioxide) extraction method has become the most technically advanced and recommended way to make CBD oil. While it's the most expensive of the popular methods, it makes the most potent, safe, and chlorophyll-free extraction. There are three types of CO2 extraction – supercritical, subcritical and mid-critical. We'll cover supercritical, the most popular.
Supercritical CO2 extraction method
CO2 is usually a gas. Supercritical CO2 forms when CO2 is heated above 31.10C and put under pressure at 1071psi. It then takes on properties of both the gas and liquid (known as a supercritical liquid). Typically this process is done using a 'closed-loop extractor'; a machine which has three main chambers and manipulates the CO2 states as well as extracts the cannabinoids and other compounds.
The process starts by putting ground cannabis into a container. Solid CO2, dry ice, is then pumped into the vessel and is converted from CO2 to Supercritical CO2 as it enters the chamber. The Supercritical CO2 runs through the plant materials and extracts the cannabinoids, trichomes and terpenes. The mixture is pumped into the third chamber where the contents are separated. The oil is then collected and the CO2 flows back to the original vessel for re-use.
Supercritical oil extraction kills off bacteria, mould and other contaminants left in CBD oil during other methods of extraction. This means that CO2 extracted CBD is likely better for those who already have compromised immune systems
Oil extraction method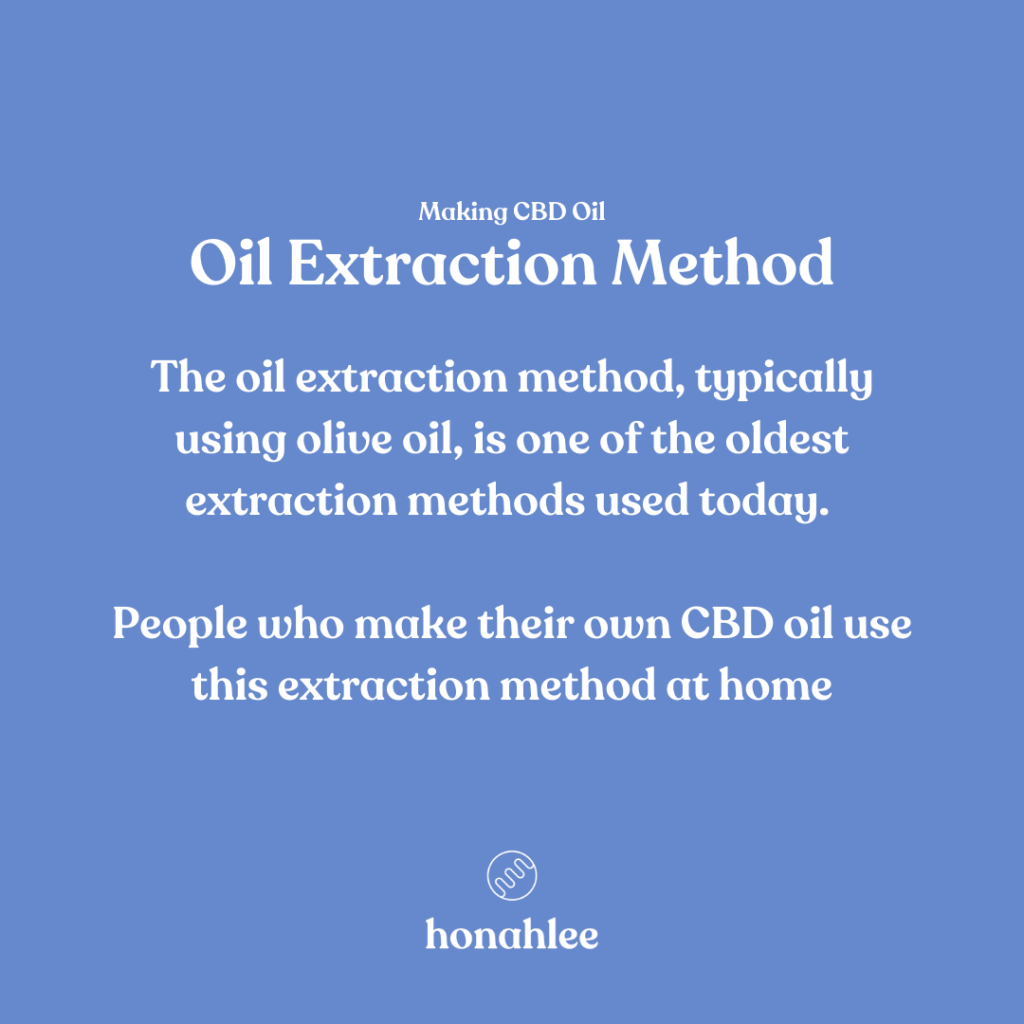 The oil extraction method, typically olive oil, is one of the oldest extraction methods used today. People even use this extraction method at home. The first step to olive oil extraction is to decarboxylate the plant material. Decarboxylation is heating the plant to a specific temperature so that the chemical compounds become activated. Once the plant matter is decarboxylated, the oil and plant are mixed and heated again.
The cannabinoids are extracted when the oil and plant are heated together. Because the oils don't evaporate, the resulting extract isn't as concentrated as other methods. The main issue with oil extractions is that the oils are perishable and therefore must be stored in a cool and dry area which puts restrictions on consumers.
Liquid solvent extraction method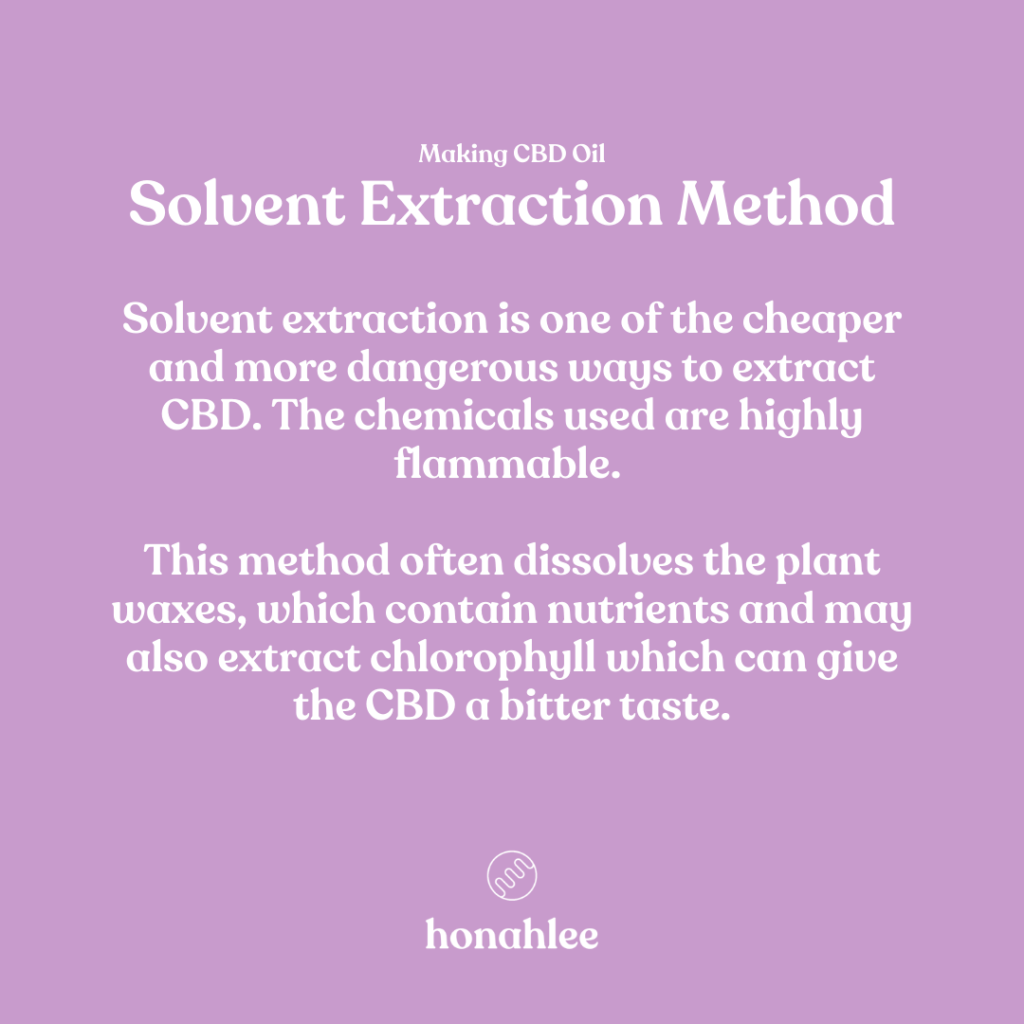 Solvent extractions often use low-grade alcohol, like ethanol or isopropyl, to extract the CBD. Solvent extraction is one of the cheaper and more dangerous ways to extract CBD as the chemicals used are highly flammable. This method often dissolves the plant waxes, which contain nutrients and may also extract chlorophyll which can give the CBD a bitter taste. While filtering removes chlorophyll, the filtering also reduces the oil's potency.

After harvesting, the cannabis or hemp is placed in a container where the cannabinoids are extracted. The plants are either soaked or have the solvents run through the materials, stripping the cannabinoids from the plant. Once complete, the liquid is then put through an evaporation process where it's heated and leaves the cannabinoid concentrates in an oil form. In some cases, solvent residue exists post evaporation. These residues can be harmful to humans, and some studies have found traces of petroleum and other nasties in CBDs from solvent extractions.
After any extraction process, the resulting oil has all of the cannabinoids and other compounds that weren't lost in the process. The initial oil extraction is called full-spectrum oil. The extraction is then refined and purified to make CBD isolate or broad-spectrum oil.
Now that you understand how CBD oil is made, you know what to say when speaking with your doctor or when looking for the product that's right for you.
From a medical standpoint, doctors can prescribe CBD only medication, CBD and THC medication and THC only medications. A THC only medication is not CBD oil.
Critical Note: Roadside drug tests in Australia, tongue tests, look for the presence of THC. If you have a CBD oil that contains even trace amounts of THC, you may test positive for THC in a roadside test. The presence of THC in your system does not necessarily mean you're impaired. You can learn more about CBD, cannabis and driving in our article about cannabis and driving.
Conclusion
In conclusion, CBD oil is an oil created by extracting cannabidiol from cannabis or hemp plants. It contains a high quantity of CBD and may contain very little or no THC. Depending on what type of plant, cannabis or hemp, and the method of extraction, the CBD oil you get will have different medicinal properties. CO2 extraction is the cleanest method of creating CBD oil but will also be the most expensive.
In the next part of our guide to CBD oil series, you'll learn about how CBD oil works on your body and what the effects and benefits of taking CBD oil are.