Isn't CBD Oil Over The Counter?
In December 2020, the Therapeutics Goods Administration (TGA) confirmed the down-scheduling of low dose CBD from a schedule 4 (S4) to a schedule 3 (S3) substance. That decision meant that as of February 1, 2021, it would be legal for companies to sell low dose CBD products over the counter in pharmacies Australia wide.
Since February 1, thousands of people across the country have been looking for CBD in pharmacies. Unfortunately, both the government and media failed to explain how and when consumers would be able to find products in pharmacies.
While it's now legal to sell low dose CBD products in pharmacies, currently and for the next 18+ months, there are, and will be no products that meet the TGA's requirements to be sold in pharmacies. It's likely Australians won't see CBD oil over the counter until 2023.
In this article, we'll explain why and will answer the following questions:
Why can't patients and customers find CBD oil in pharmacies?
While low dose, Schedule 3 CBD oil is technically legal for over the counter sale in pharmacies, the TGA has set specific requirements for those products. The most important, and the most tricky requirement that these products must meet is that they must be listed on the Australian Register of Therapeutic Goods (the ARTG).
There are only two cannabis products currently listed on the ARTG (Epydiolex and Sativex) and they are both Schedule 8 products.
What does listing a CBD product on the ARTG entail?
Successfully listing a product on the ARTG is a complicated and lengthy process which costs product companies a lot of money. Pharmacist Lisa Nguyen, founder of Astrid Health explained the process, saying:
A sponsoring company, or a medical cannabis company must put the product through a series of clinical trials to prove that it is:
Efficacious for a specific condition
Safe for consumption
The product must also meet certain quality and consistency standards. Normally, clinical trials take multiple years before getting to a stage where a product is listed on the ARTG.
Once a product has gone through a trial and has proven to be efficacious and safe, these companies must submit their findings (a dossier) to the TGA for approval. The TGA will then assess whether the product meets their requirements.
The assessment alone can take up to 330 days and anywhere throughout that process, the TGA may request further information or reject the application which means the process could take even longer. Once a product meets the TGA's clinical trial requirements, it must then make sure the product itself meets specific requirements including dosing requirements, packaging requirements and more.
What's the difference between low dose CBD oil over the counter and cannabis prescribed by a doctor?
There are a few important differences between over the counter, low dose CBD products you'll eventually find at pharmacies, and CBD or cannabis prescribed by a doctor. The main differences are the ARTG listing, patient eligibility and conditions the cannabis will treat and product types and cannabinoid content.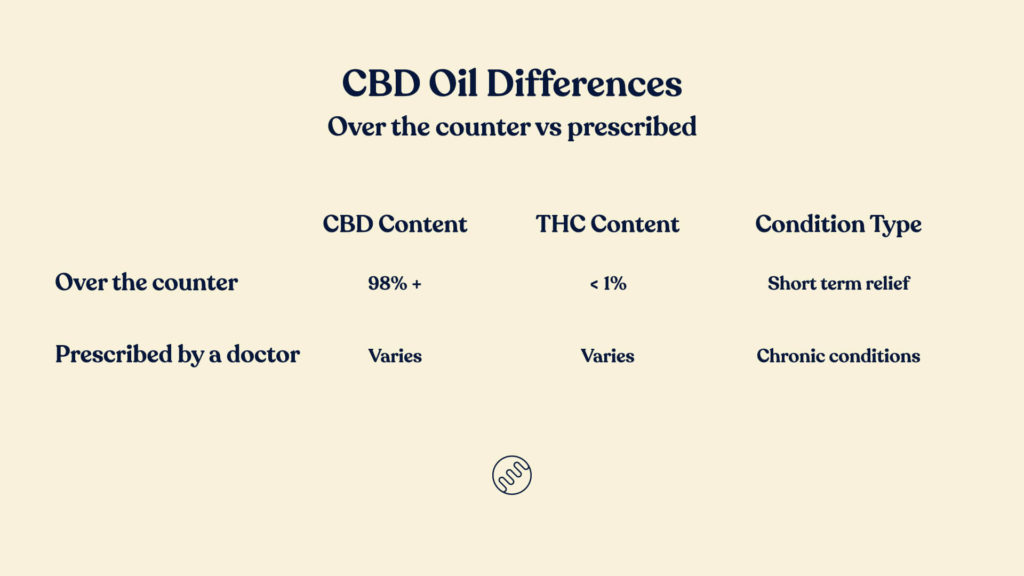 ARTG Listed vs Special Access Products
Prescribed:
Most cannabis prescribed by doctors in Australia is unapproved, or unregistered medicine. These products are prescribed through special access pathways called the Special Access Scheme or via Authorised Prescribers (APs). Doctors can also prescribe compounded medical cannabis products. These products have not been clinically proven to treat specific conditions.
Over The Counter:
The low dose CBD products that may be sold over the counter in the future will have to have successfully passed clinical trials and be proven to be safe and efficacious for a specific condition or indication.
Patient eligibility and conditions
Prescribed:
Any GP in Australia can prescribe medical cannabis, with the exception of Tasmania where you need a specialist. There is no list of conditions for which a doctor can prescribe, so a doctor may apply for cannabis to treat any condition. To be eligible for cannabis, a patient (of any age) must have a chronic medical condition and must have tested other forms of treatment. Those treatments must have either had unbearable side effects or the patient must not have found relief from symptoms. Any doctor may prescribe any product for any chronic condition.
Over The Counter:
Over the counter CBD products will be sold in a different way. When available, your pharmacist will screen you to see if you qualify for a specific product. And, specific CBD products will be sold for specific indications or conditions.
Patients will need to be 18+ years old and the products will be sold for short term or temporary treatment.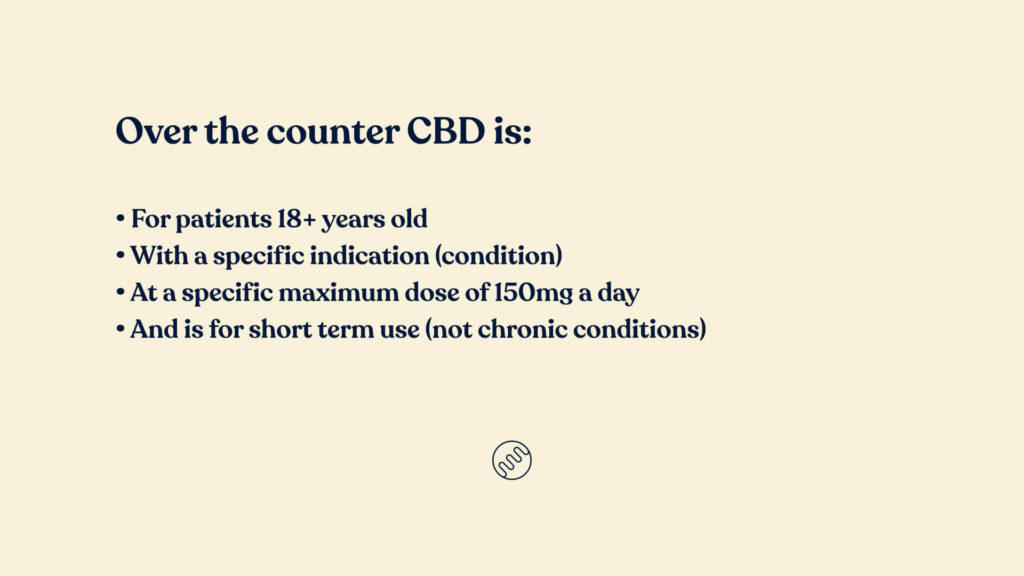 Product type and content (cannabinoid content)
Prescribed:
Medical cannabis that is prescribed can be oil, flower, lozenges and many other product types. There are over 150 products available for doctors to prescribe and they have a range of cannabinoid content. Prescribed products can be CBD only, high CBD & low THC, THC only, high THC & low CBD and THC only. To learn more about the prescribed products available you can visit our product list article.
Over The Counter:
Over the counter products will have very strict requirements put in place by the TGA. Over the counter CBD products must be 98% or more CBD (cannabidiol). There may only be 1% or less THC (tetrahydrocannabinol) and 2% or less of any other cannabinoid and will be in preparations of oral, oromucosal & sublingual only.
When will CBD oil products be in pharmacies in Australia?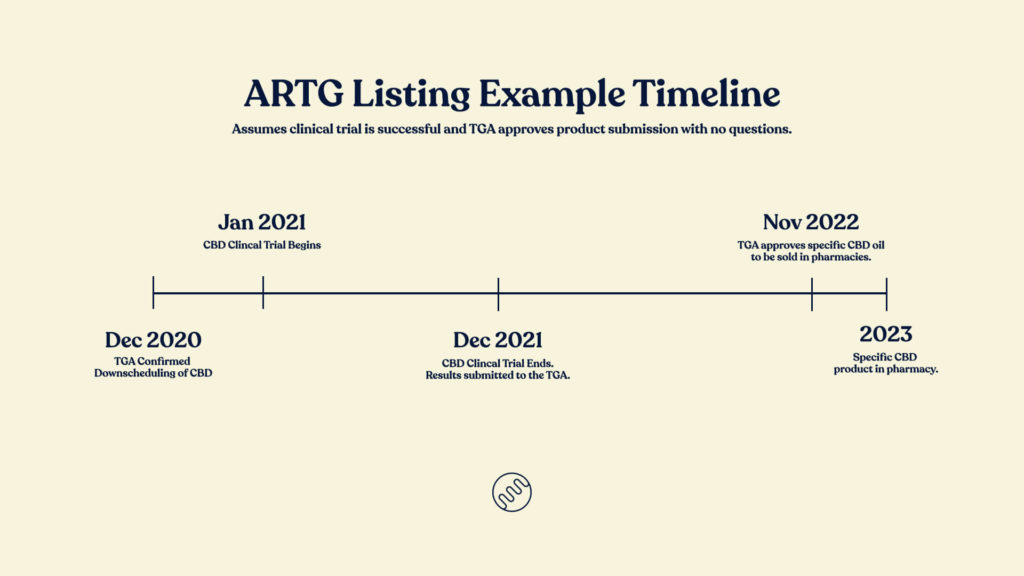 Although currently legal, it's anticipated that we will see CBD oil products available in pharmacies probably sometime after the third quarter of 2022, however, it depends on multiple variables.
Products will need to go through clinical trials. Some companies have already started those trials, so with any luck, they'll have safety and efficacy data this year. In a best case scenario, their dossier will be submitted to the TGA late 2021. From there, the review can take up to 330 days (11 months). Assuming the product is approved by the TGA we're looking at the last couple of months of 2022, but more likely 2023.
Conclusion
While CBD oil is technically legal to be sold over the counter in pharmacies Australia wide, you will not find any currently available. Most pharmacies and pharmacists aren't educated enough to give you the information you need when inquiring.

When CBD oil is available in pharmacies, it will be a low dose product and only for short term relief. There will be a very limited product selection and your pharmacist will need to assess you to make sure the products that are available are right for you.
If you're a patient and think cannabis products might be right for you, it's best to talk to your GP. Medical cannabis, however, doesn't work for everyone.