In Australia, we have over 150 cannabis products that a doctor can prescribe. Most of the products are considered CBD oils. And, as of Feb 2021, low dose CBD oils will be legal over the counter in pharmacies.
With a rise in the popularity of CBD oil across the globe, the terminology used to describe products has become increasingly confusing. Companies have created multiple types of CBD oil and numerous forms of CBD products to differentiate themselves from competitors. We've created this guide to CBD to help clear up any confusion about what CBD is and how it may benefit you.
In the last article, how CBD oil works on the body, we discussed how we define health in relation to CBD and the endocannabinoid system, how the endocannabinoid system regulates your homeostasis, and how CBD oil can help improve your health. In this article, you'll learn about the different types of CBD oil, their ingredients and how they differ from a health standpoint. Here are the topics we'll cover so you can jump ahead if you're looking for something specific.
Frequently used CBD oil terms
Before we talk about the different types of CBD oil, you must understand some of the terms you'll read when researching CBD oil. These terms can often be confusing and may make it more difficult to find what you're looking for on your CBD quest. Three popular terms that often confuse people are 'CBD concentrates', 'raw CBD oil' and 'PCR Hemp oil or PCR CBD oil'.
CBD Concentrates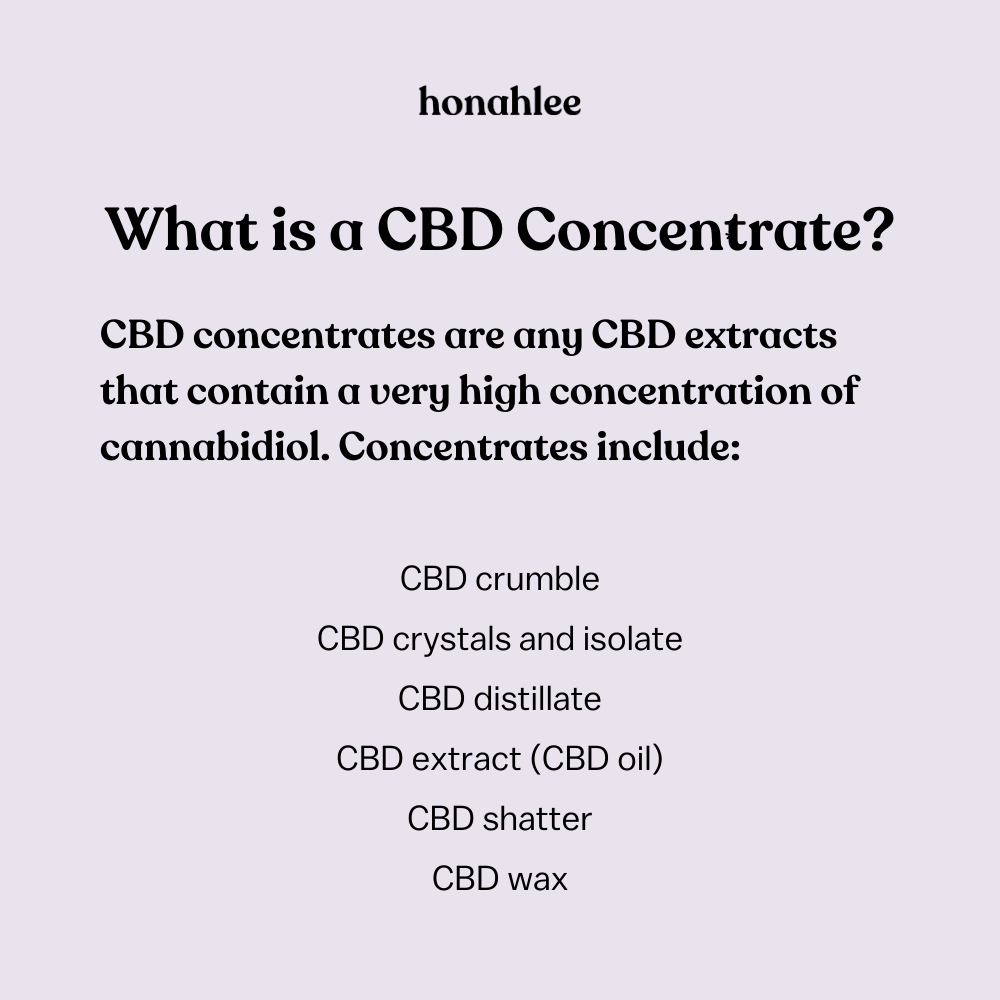 CBD concentrates are any CBD extracts that contain a very high concentration of cannabidiol. So, when looking for a CBD product, you're likely going to be looking for a concentrate. Concentrates come in many forms and include:
crumble
crystals and isolate
distillate
extract (CBD oil)
shatter
wax
These high potency products usually contain anywhere from 45% to 99.9% cannabidiol. The idea is that these products will give you a high dosage of CBD via a smaller dose in a shorter period of time. It's also important to know that all CBD extracts are concentrates but not all concentrates are extracts.
Raw CBD oil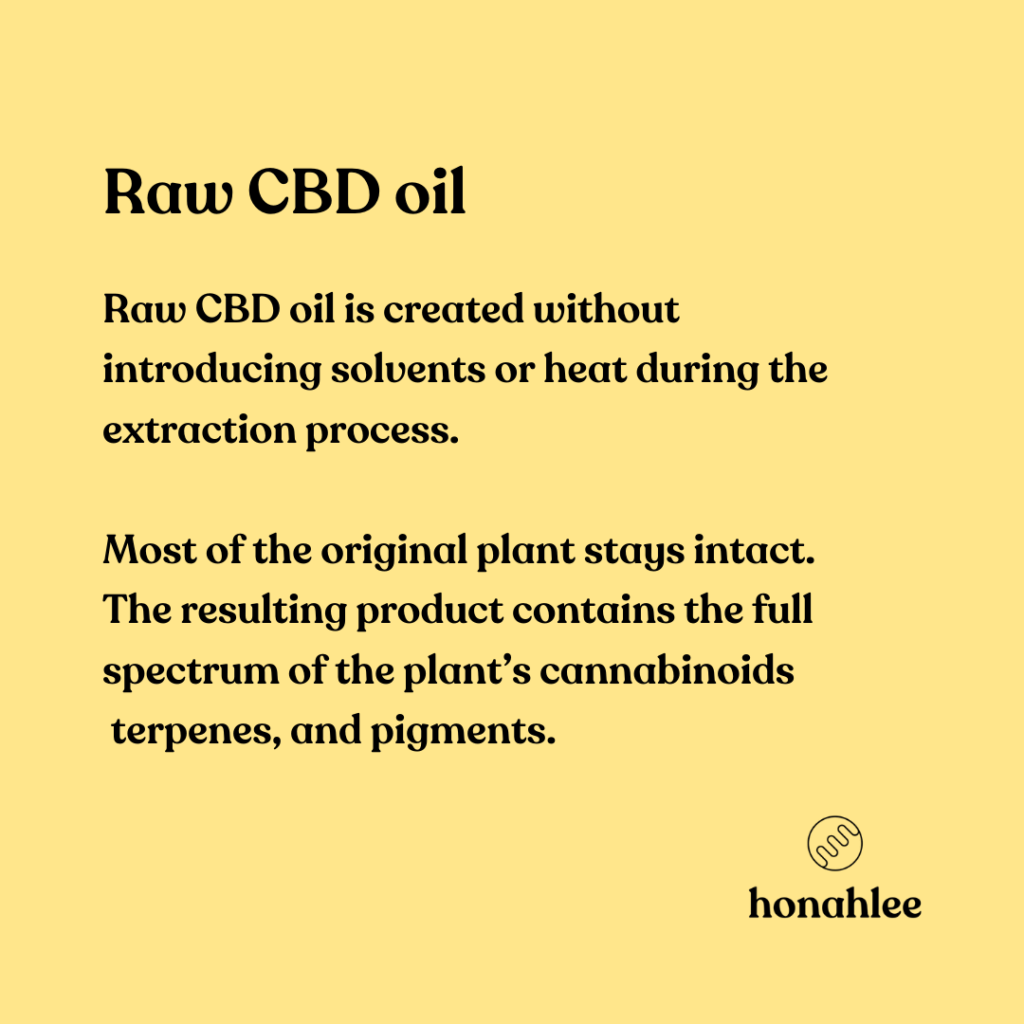 Raw CBD oil is created without using solvents or heat during the extraction process. Typically Raw CBD oil is made via a CO2 extraction process. Because most of the original plant stays intact during and after the process, the resulting product contains the full spectrum of the plant's cannabinoids including CBD and CBDa. In addition to all of the cannabinoids, the resulting product contains the terpenes and pigments.
PCR Hemp oil (or PCR CBD oil)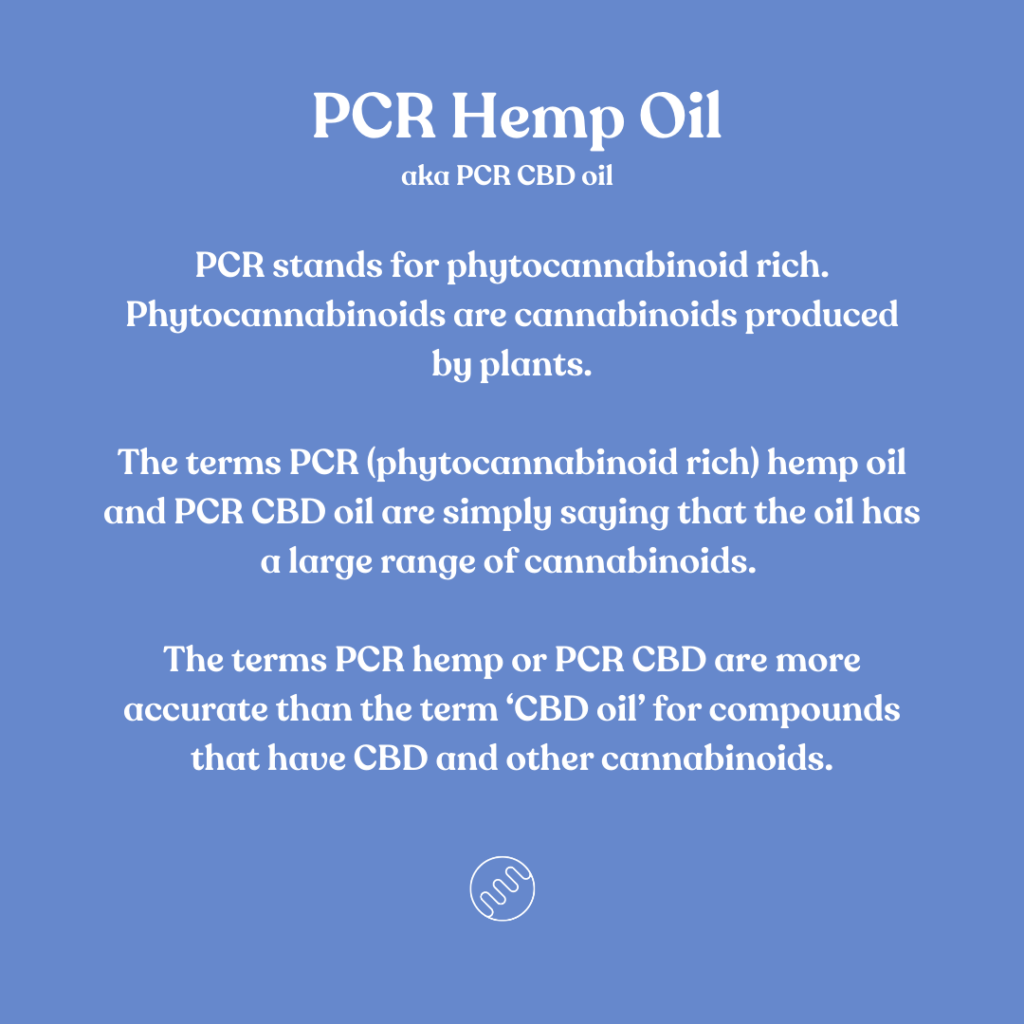 You'll often hear the term cannabinoids when referring to CBD and THC. Cannabinoids are a class of chemical compounds produced by several biological species. PCR stands for phytocannabinoid rich. Phytocannabinoids are simply cannabinoids produced by plants.
The terms PCR (phytocannabinoid rich) hemp oil and PCR CBD oil are simply saying that the oil has a large range of cannabinoids. The terms PCR hemp or PCR CBD are more accurate than the term 'CBD oil' for compounds that have CBD and other cannabinoids.
Often PCR Hemp oil and PCR CBD oil are interchangeable with the term 'full spectrum CBD or full spectrum hemp oil'.
Now we'll cover the three main types of CBD oils.
CBD Isolate vs Full Spectrum CBD vs Broad Spectrum CBD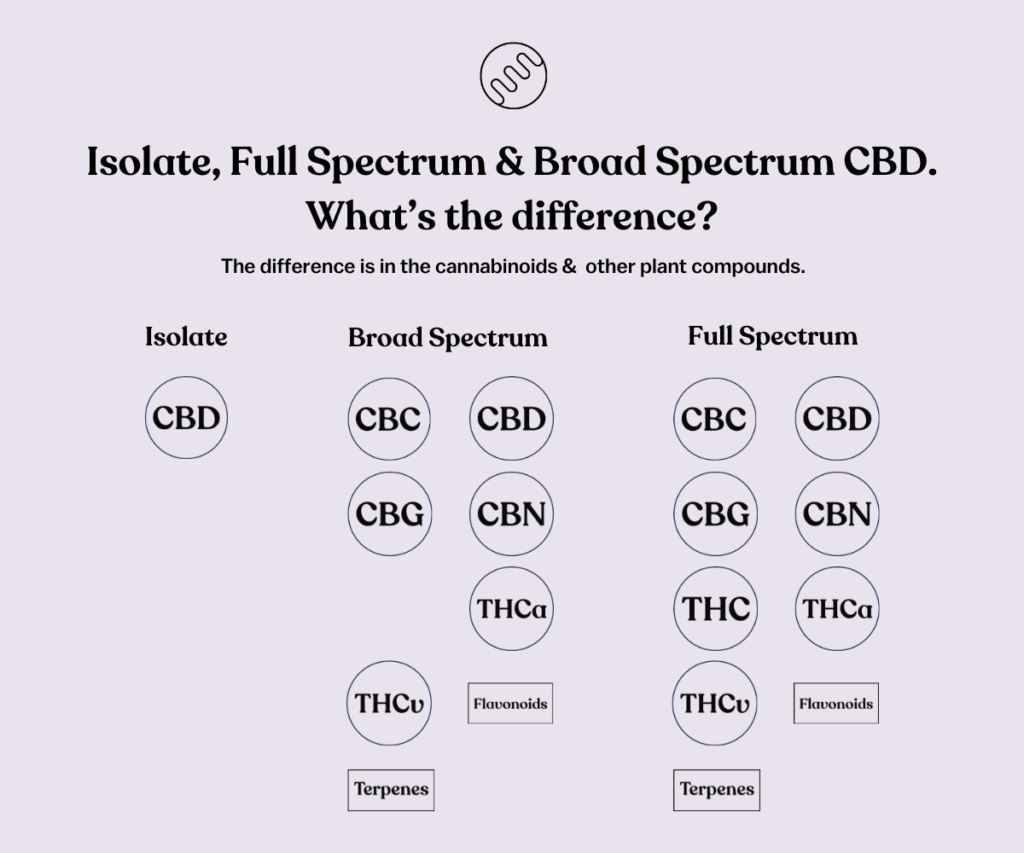 Most people use the term CBD oil interchangeably for multiple products. The term CBD oil, however, is not necessarily accurate because many CBD oil products contain several cannabinoids. A majority of the CBD oil that you can get for medical and wellness purposes come from the hemp plant (vs marijuana). We differentiate CBD oils by their cannabinoid content.
There are three main types of CBD oil that you'll hear about:
Isolate (CBD)
Full Spectrum CBD oil
Broad Spectrum CBD oil
---
What is the difference between broad spectrum, full spectrum and isolate in CBD oil?
The difference between broad spectrum, full spectrum and CBD isolate is simply the chemical compound content found in each of the products.
Full spectrum CBD contains all of the cannabinoids and other plant compounds. Broad spectrum CBD contains all cannabinoids and plant compounds other than THC.
CBD isolate only contains CBD and is often found in crystal or powder form.
---
What is CBD isolate?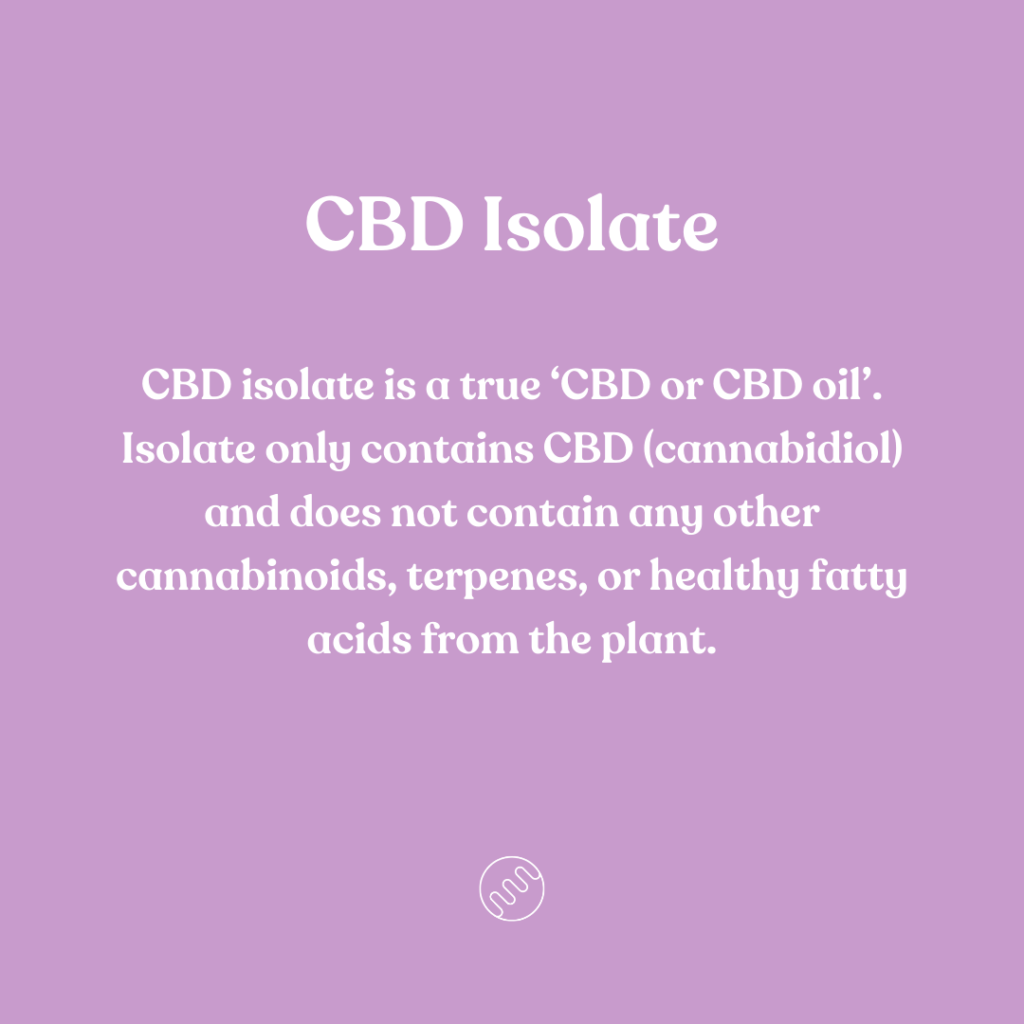 CBD isolate is a true 'CBD or CBD oil' because an isolate only contains CBD (cannabidiol) and does not contain any other cannabinoids, terpenes, or healthy fatty acids from the plant. Most companies sell isolate as a crystal or a powder, however, some sell it as an oil.
It is made through the same extraction process as other CBD oils. The difference is that once the cannabinoids are extracted, the CBD is filtered out. It then goes through a chilling process called winterisation, which removes all other chemical compounds.
Isolate is often used for vaping, and when in crystal or powder form is generally administered by putting it under the tongue. The benefits of isolate over other types of CBD are that it's generally cheaper and it has no THC. The downside is that you miss out on the potential entourage effect which exists when a full spectrum of the cannabinoids is present in the oil.
What is Full Spectrum CBD Oil?
Full spectrum CBD oil is very different from CBD isolate. We say this because full spectrum CBD oil has CBD and all of the other cannabinoids (including THC), terpenes and fatty acids that naturally occur in the cannabis plant. Full spectrum CBD is often called a full or whole plant extract.
In a full spectrum extract, the oil goes through the cannabinoid extraction process and filtration, however, none of the cannabinoids or other compounds are removed. While full spectrum CBD does have THC, it does not contain enough THC to get you high. It will however likely show up on a roadside mouth swab test.
The benefits of a full spectrum CBD oil is that many of the other chemical compounds and cannabinoids in a full-plant extract have healing properties. For example, the terpenes in the cannabis plant are known to have anti-inflammatory properties. Other cannabinoids found in a whole plant extract are thought to enhance the overall benefits of taking CBD.
In 2005 a study concluded that a CBD oil with a full-plant extract had greater medicinal properties than only CBD. Because the oil has all of the cannabinoids and other chemical compounds, you will get the positive effects of the chemical synergies called the entourage effect.
What is Broad Spectrum CBD Oil?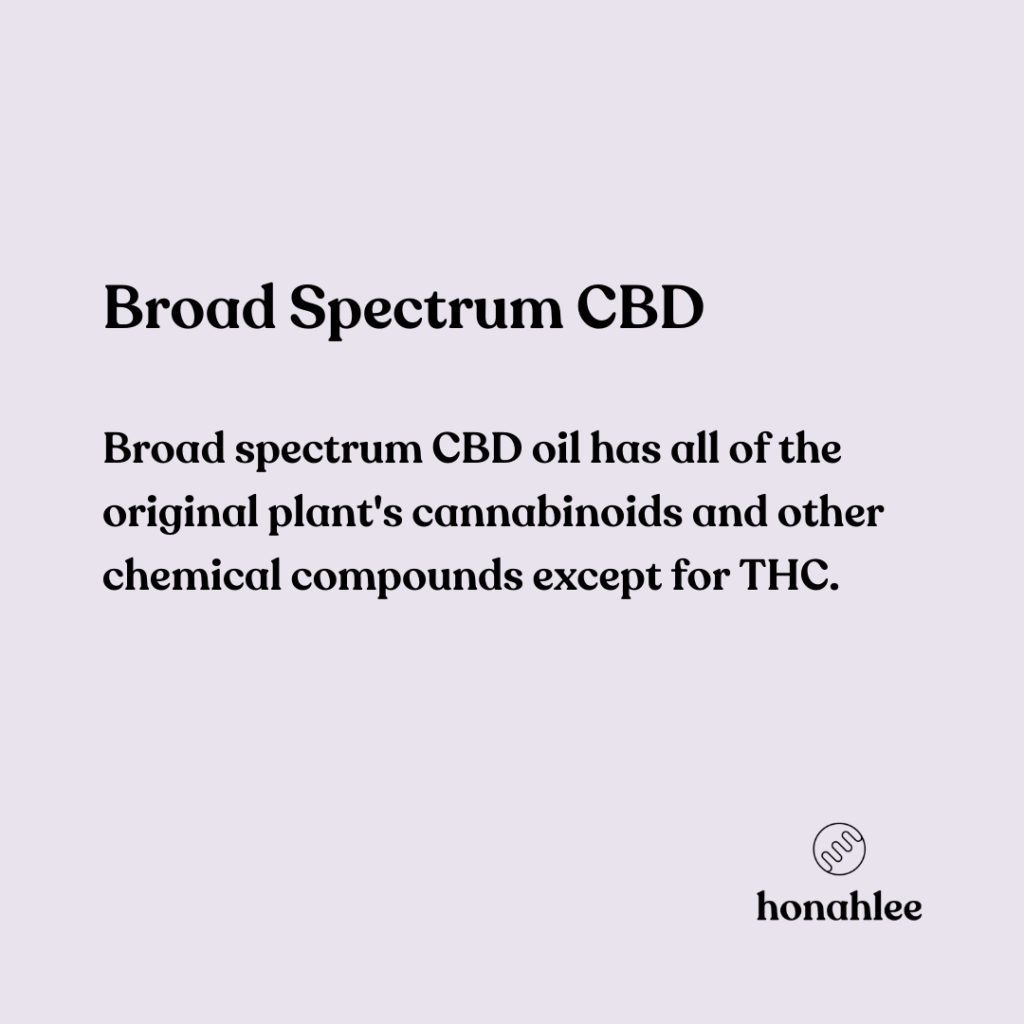 Broad spectrum CBD oil is a middle ground between CBD isolate and full spectrum CBD oils. It has all of the cannabinoids and other chemical compounds except for THC. It has all the beneficial chemical compounds except for THC, so you're likely to gain some of the beneficial effects of the entourage effect.
Broad spectrum CBD oil is not as easy to find as the other types of CBD oil. Like its counterparts, broad spectrum CBD oil goes through the normal extraction process. For places where THC is illegal, the benefit of broad spectrum CBD oil is that in the final stages of processing, the THC is removed from the extract. Therefore, broad spectrum CBD oil will not show up on a drug test if the test is looking for THC.
CBD Carriers: oils vs tinctures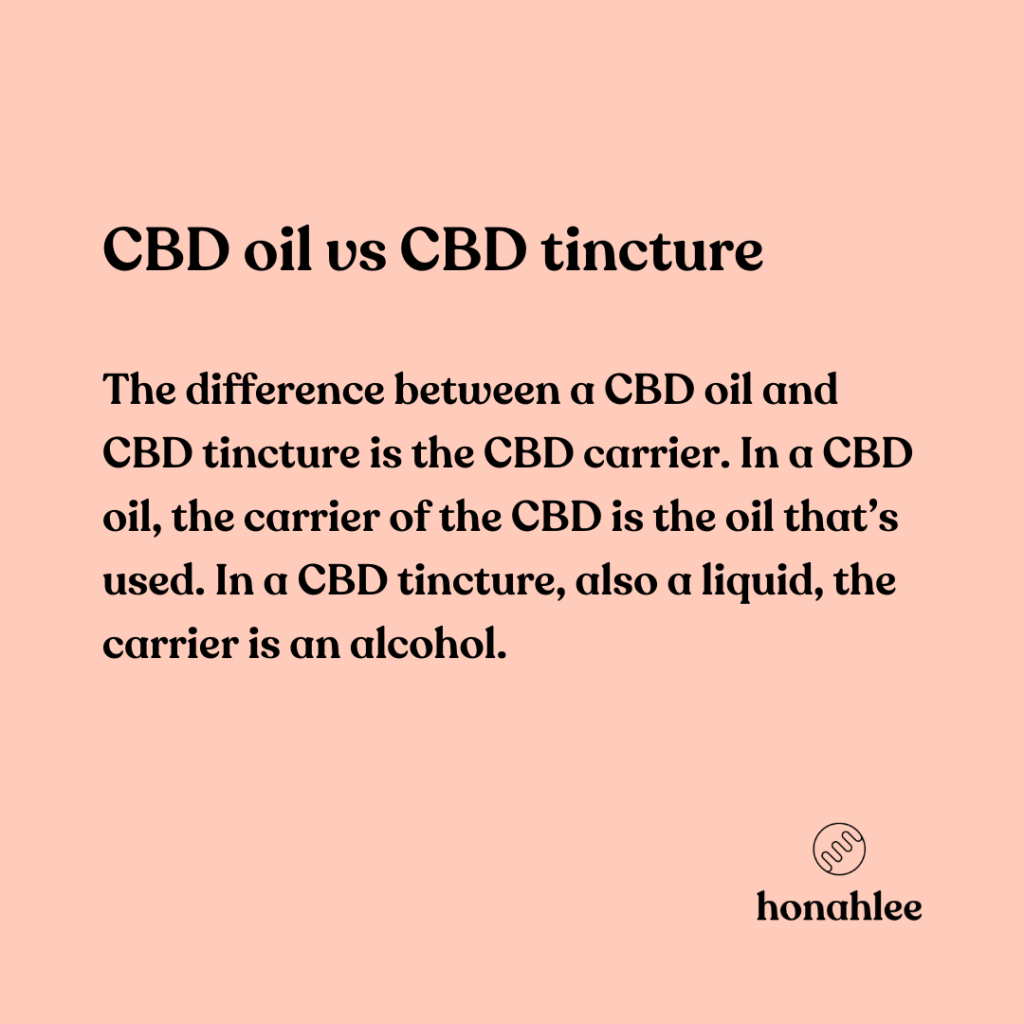 Now that you understand the different types of CBD and CBD oils that you can purchase, it's important you understand the types of carrier agents for CBD. A carrier agent is the base through which can ingest the CBD and other cannabinoids. While CBD oils and tinctures may look the same to the untrained eye, they are very different.
---
What's the difference between a cbd oil and cbd tincture?
The difference between a CBD oil and CBD tincture is the CBD carrier. In a CBD oil, the carrier of the CBD is the oil that's used. In a CBD tincture, also a liquid, the carrier is an alcohol. The only similarity between the two, other than the cannabinoid content in some cases, is the fact that they are both liquids.
---
CBD oil
A CBD oil is exactly what it sounds like. The CBD and other cannabinoids are extracted from the plant and into an oil. Oil extraction is still the most popular form of extraction and is often the carrier of choice when oils are made at home. Common oil carriers are:
Coconut oil
Hemp seed oil
MCT oil
Olive oil
CBD tincture
A CBD tincture is a CBD liquid that uses alcohol as the carrier base rather than an oil. Tinctures are created by steeping cannabis in a high-proof grain alcohol. The mixture is then put on a low heat for an extended time in order to infuse the plant compounds. Over time, the alcohol is burned off and the infusion takes place. Tinctures can usually be stored for longer periods of times than oils
Bringing it all together
While looking for CBD can feel complicated, knowing a few specific things will make it much easier. CBD concentrates come in many forms and normally contain 45% to 99.9% cannabidiol. Raw CBD oil hasn't been decarboxylated (heated and activated) and therefore has different cannabinoids than other CBD oil. PCR (Phyto-cannabinoid rich) hemp oil means that the oil has a full spectrum of the cannabinoids in the final oil product.
There are three main types of CBD products:
CBD Isolate which contains only CBD and usually comes in a powder or crystal form.
Full Spectrum CBD Oil which means it contains all of the cannabinoids and other chemicals that naturally occur in the plant before extraction.
Broad Spectrum CBD oil has everything that full spectrum contains except for the THC. Note: In Australia, some doctors are prescribing what they are calling Broad Spectrum oil, but it contains THC.
When you purchase a CBD product you will want to decide between a CBD isolate, an oil or a tincture. CBD oils use an oil as a carrier for the cannabinoids whereas a CBD tincture uses alcohol. No CBD oil will get you high, but those with THC in them may show up on a drug test. When speaking with your doctor or researching CBD products, you'll need to do your research on which type of product will work best for you.
In the next article, you'll learn about the benefits and side effects of taking CBD as a medication or nutritional supplement. If you found this article helpful, please feel free to share or send us a message. If you have a question about CBD that you can't find an answer to, you can always ask us a question on our contact us page.